home / blog / Make Your Delivery Business Stand Out With A Glovo Clone Development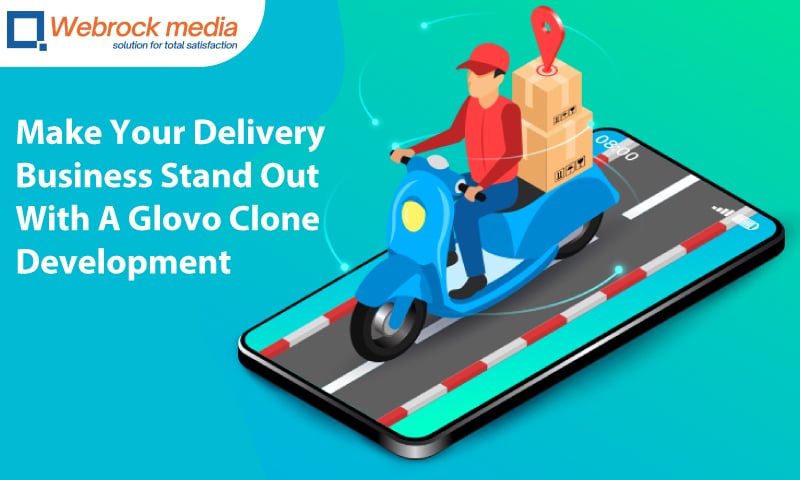 Webrock Media provides you with high-quality Glovo clone development services at an affordable rate to help you make a mark in the industry with a quick and efficient product delivery service.
If your entrepreneurial mind is looking for a new business idea in the service industry, then starting with a business in delivery service can be the ideal choice. And you may go for a Glovo clone development to serve your customers with efficient pickup and delivery of food, groceries, medicine, and other products from local stores and restaurants.
By launching a Glovo alternative, you may serve your customers with a range of delivery options, including on-demand delivery, scheduled delivery, and pickup orders. The Glovo clone that our app developers create for you will help your customers a lot. The app users would be able to track their orders in real time and also communicate with their delivery partners via the app. You can generate a good income via the Glovo clone app through various options like commission, running in-app ads, subscriptions, loyalty programs, etc. You can also run a loyalty program via the Glovo clone app and provide users with discounts on their orders.
As a business owner, you may partner with local businesses and restaurants so that you can provide the app users with a wide range of products to choose from and get them delivered to their chosen location. And you may charge a delivery fee and take a commission from the partner businesses for each order they receive through the Glovo clone app. So, if you want to offer a convenient and efficient way for users to get the products they need to be delivered to their doorsteps, then hiring Glovo clone developers from Webrock Media would be the best choice.
All-In-One Glovo Clone for Optimized Delivery Solution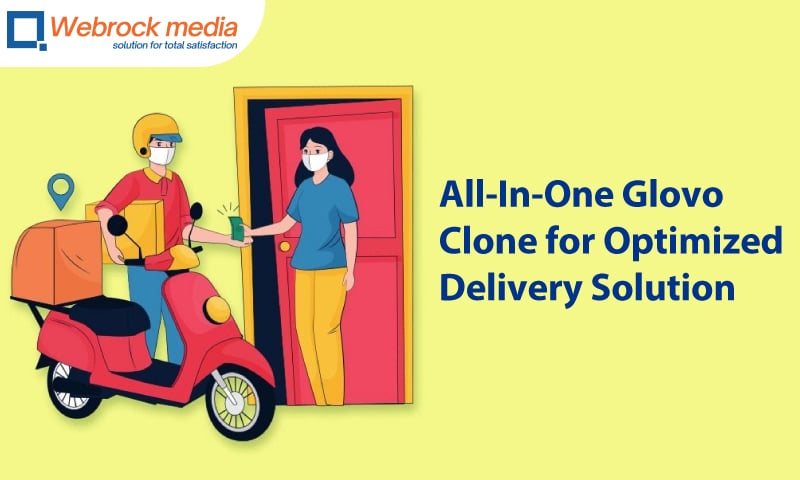 Our Glovo clone is an on-demand delivery app that helps business owners connect local businesses with their customers via delivery partners. The Glovo clone is a single platform that allows sellers to connect with their customers easily via the app and encourage them to place an order online. You can onboard various businesses that sell different kinds of products so that customers can place an order for their chosen products and get them delivered.
You can now start your entrepreneurial journey with our all-in-one Glovo clone development solutions. We offer high-end features in the Glovo alternative, along with a user-friendly dashboard to allow app users to find all kinds of convenience and get their chosen products delivered to their chosen address. Our on-demand delivery app is the perfect solution to meet the rising demands of today's customers, and you can expect to generate a huge income via this app.
Connect with the team of Webrock Media today and discuss your requirements for delivery services, the area you want to serve, and any other specifications you want to add to the app. We will offer you the best on-demand delivery app solution and help you offer a great user experience to your customers, sellers, and delivery partners.
Industries Can You Serve with Our All-In-One Delivery App
Launching a Glovo clone app will allow you to cater to various industries like restaurants, grocery stores, chemists, stationery stores, florists, and many more. Here is a list of industries that you can cater to with the best-in-class Glovo clone.
Food Delivery
Grocery Delivery
Pharmacy Delivery
Alcohol Delivery
Flower Delivery
Medical Marijuana Delivery
Bottled Water Delivery
Stationery Delivery
Doorstep deliveries have become increasingly necessary. With the help of our Glovo clone, business owners will be able to launch a multi-category on-demand delivery app with active tracking and monitoring features. With our Glovo clone script, pick an easy strategy to make money while assisting consumers in taking advantage of convenient ordering and delivery options.
The Glovo clone aims to revolutionize how customers access services by making delivery and on-demand services easily available. The hyperlocal delivery paradigm is given a fresh perspective by this.
What Types Of Businesses Can Go For The Glovo Clone Development Services?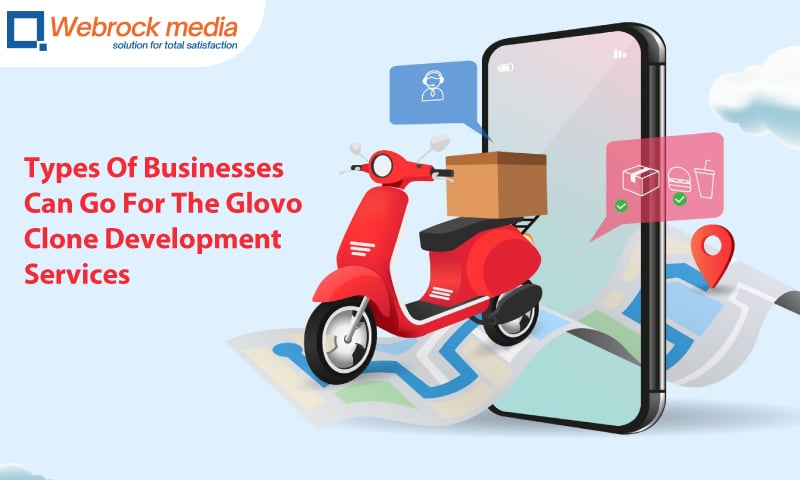 Any business owner can go for Glovo clone development services. A Glovo clone app functions as an on-demand delivery platform that connects users with delivery persons for a variety of products and services. It offers a convenient and hassle-free way for users to get items delivered to their doorstep and for delivery persons to earn a living. Here is a list of businesses that can go for Glovo clone development solutions.
Entrepreneurs
Entrepreneurs can launch a Glovo clone script and launch an on-demand delivery app service. Our Glovo clone app is suitable for all entrepreneurs who want to start their journey of a delivery business.
Single Store Owners
Our Glovo clone is also apt for single store owners who want to attract customers to use the app for ordering products from them and getting convenient doorstep delivery.
Owners Of Multiple Stores
Owners of multiple stores that are based in different locations can also go for this Glovo clone development service. Store owners will have more control over the orders and product delivery.
Startup Businesses
Launching a Glovo clone can be a great business choice for startup business owners. You can opt for different business models like the aggregator model, order and delivery model, or complete service business model and meet your business requirements.
SMBs
Small and Medium businesses can make the most of this Glovo clone solution. If you are an SMB owner, you can now launch a Glovo clone and make a profitable business venture.
Enterprises
Business enterprises who want to start a new delivery business and attract millions of customers can go for the Glovo clone development service for a profitable business venture.
Logistics And Delivery Service Providers
For any logistics and delivery service provider, launching their own Glovo clone can help them attract more clients ordering products via their app.
How Does Our Glovo Clone Function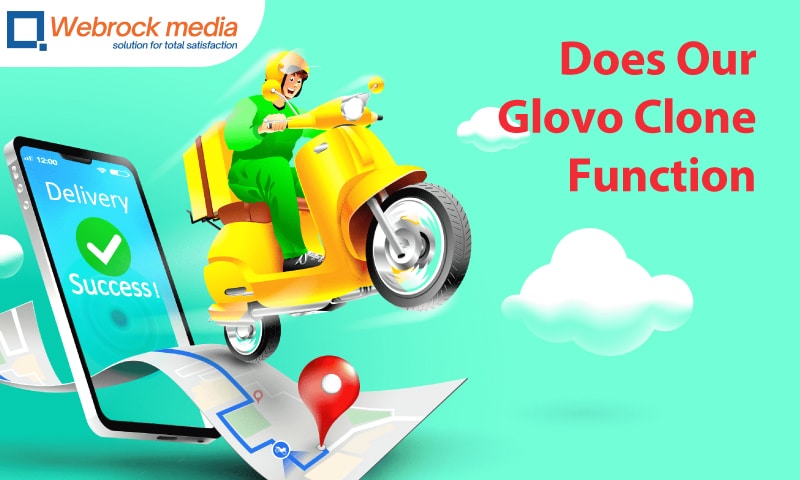 A Glovo clone is a delivery app that works similarly to the original Glovo app. Here's how a typical Glovo clone functions:
Registration And Verification:
The first step is for the user to download the app and register with their email address or phone number. The user will need to verify their account with a code sent to their email or phone.
Placing An Order:
The consumer can then navigate through the various product categories and select the things they wish to order. They can also include notes or specific delivery instructions.
Payment:
We have integrated various payment gateways, so Glovo clone users can make their payments using a credit card, debit card, or even a mobile wallet.
Delivery:
Once a customer places the order, the delivery partner nearest to the user's location and also the one available will be assigned the task. They will pick up the order from the restaurant or store and reach the customer's location to deliver it.
Real-Time Tracking:
With the Glovo clone app, the user may track the location of the delivery person in real-time. This allows them to plan accordingly and know when the delivery person will come.
Delivery Completion:
Once the delivery person has delivered the order, the user will receive a notification. They can then rate the delivery person and leave feedback on the app.
Payment To The Delivery Person:
The delivery person is paid for their services through the app. One can calculate the payment based on the distance they travel and the time they take to complete the delivery.
A Glovo clone app functions as an on-demand delivery platform that connects users with delivery persons for a variety of goods and services. Using a Glovo clone platform is a convenient and hassle-free way for users to get items delivered to their doorstep, and also, the delivery partners can make it their source of income.
Scope Of Services That Entrepreneurs Can Adopt With The Glovo Clone

Aggregator Business Model
With the Glovo clone aggregator model, you can attract millions of customers to order products via the app. Once they place the order, the retailer and a delivery partner will receive a notification. The retailer will prepare the product packaging. And once the product is ready for pickup, the delivery partner will pick it up and deliver it to the customer's address.
Order and Delivery Business Model
The order and delivery model is the best as you can have all deliveries made quickly. Customers, delivery partners, and retailers will have a separate interface. And as an order is created by a customer, the other two will receive a notification and accordingly act to make the delivery fast. Our Glovo clone script is to offer you the highest order of efficiency and profitability.
Complete Service Business Model
The complete service business model is for those who want to run the show all by themselves. It is best for retailers as they do not have to rely on third-party delivery app service providers. Retailers can launch a Glovo clone to attract their own customers and have their own delivery partners make the deliveries to the customer's address.
Top Features Of Our Glovo Clone App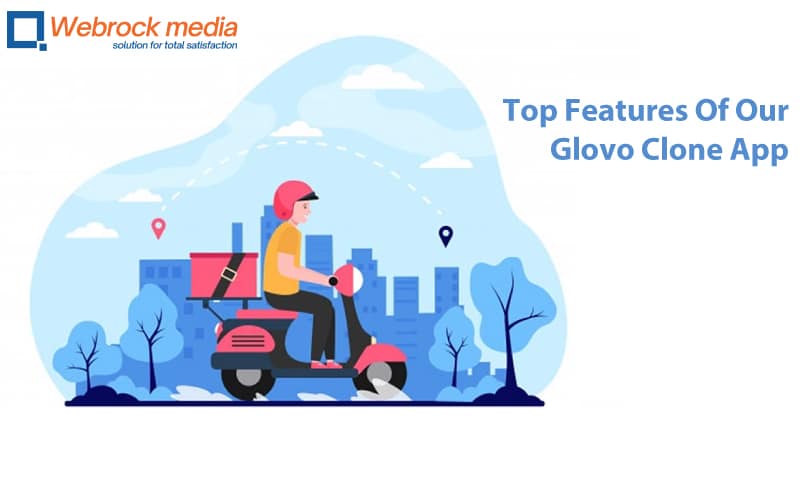 Customer App Panel
Login
Customers can register themselves or sign up by using their email address or social media login credentials and start browsing through the product listings to place an order.
Browse Restaurant
Customers can browse the retail stores listed on the app for their prices and accordingly decide to place an order for their favorite items for home delivery.
Browse Stores
Customers also get the option to browse the stores listed on the app for their products & prices. They can either search with a product name or by store name to find the required product.
Add to Cart
Customers can add products to the cart they want to purchase via the app platform. Once they choose all the products and save them in the cart, they can either place the order immediately or order later.
Real-time Order Tracking
Glovo clone customers get the option to track & know where their order is and when it will be delivered to their chosen address. The order tracking facility helps customers have an idea about when they will receive the delivery.
Review and Ratings
Customers can rate the quality & services of a store they buy a product from and also rate their product delivery experience. Reviews and ratings help other users to buy similar products from the same store in the future.
Wish List
The wish list feature allows customers to add their favorite items to the wishlist to purchase them later. Meanwhile, they may also check other items and place the order together.
Retailer App Panel
Create Profile
Retailers can register their store on the Glovo clone app & create a profile for their business. They can create their profile by adding their contact number, email address, also the address of their business.
Stock Management
Retailers can keep track of the stock available in their retail store and have a clear idea of the number of products available under each product category through the retailer dashboard.
Price Management
Retailers can set & adjust the prices of each product on the menu as per the profit margins they want. They can also adjust the product pricing during SALE or when they run some special discounts.
Offers and Discount Management
Retailers can create special discounts & offers to attract customers to buy more products from them and grow conversions & deliveries for higher profits.
Assign Driver
Once a customer places an order, and the retailer gets a notification for that, they can assign a delivery executive to pick up the order for customer delivery.
Availability toggle for Retailers and Items
Retailers can toggle the availability as ON/OFF for the items that are out of stock and accordingly adjust the same once they have it in their stock.
Delivery Partner App Panel
Availability toggle
Delivery partners can switch their availability from online to offline via the availability button and decide when they are ready to take up new orders.
Job Order History
Delivery executives can view and keep track of the order they have delivered in a day on History. They can also check the same for a span of a week or a month and learn about their income possibilities.
GPS Navigation
Delivery executives can utilize the GPS navigation option to find and take the most optimized routes & directions to reach their customer's locations conveniently.
In-App Call/Chat
Delivery executives can also use the in-app chat feature to communicate with their customers. They can either chat through the app or call them directly via the app to avoid any miscommunication.
Delivery Information
Delivery executives receive a notifications alert on their app as a customer places an order. They get detailed customer info along with their address to reach there conveniently and make the delivery.
Track Earnings
Delivery partners can track their monthly earnings on a daily, weekly, & monthly basis on the Glovo clone app and decide on their working hours accordingly.
Admin Panel
Customer Management
The Glovo clone admin panel helps the app admin to manage customer details, received orders, & all other order details on the single dashboard.
Store Management
The Glovo clone admin can manage various details like store authentication, orders, & other activities on the app.
Promotions Management
The Glovo clone admin can promote their delivery business with affordable marketing campaigns so that they can encourage more customers to use the app to buy products.
Analytics & Reports
The Glovo clone admin can measure their business profit margin and their business growth with the help of the analytics and reports feature on the app.
Driver Management
The Glovo clone admin can manage their delivery partner's details, track the number of orders delivered by them, and also track their real-time locations.
Feedback Management
The Glovo clone admin can respond to customer queries, reviews & feedback to improve their delivery service and enhance customer satisfaction.
The Bottom Line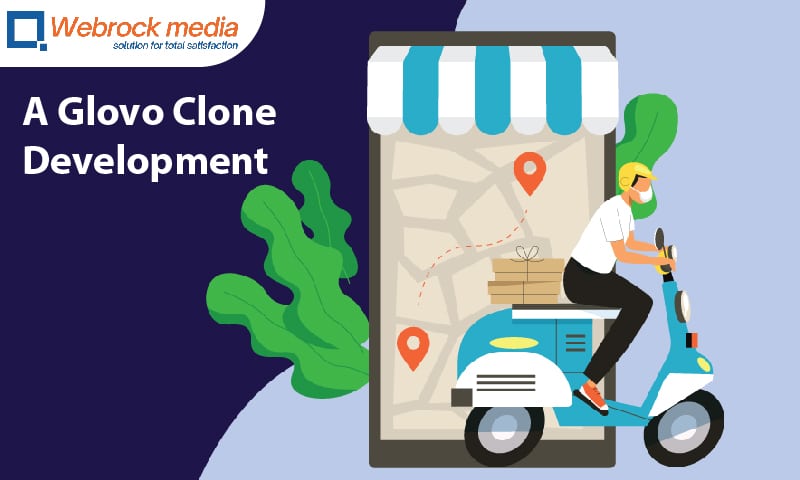 If you want to launch a Glovo clone, you must hire the best Glovo clone developers, and Webrock Media is the best choice for you. We have a team of expert Glovo clone developers who work diligently on each project to make it a successful venture. In the beginning, we discuss your delivery app requirements thoroughly and understand your requirements from the app and your business vision. We also offer our input so that together, we can build an app that will help you attract millions of customers to use the app for ordering products.
We also give you a rate quotation for the app design and development and explain to you the steps involved in the project. After you approve, we will start with the work and, accordingly, deliver the work within the timeline. Our expert team of developers will always deliver you the best at the most affordable rate. So, connect with us today and let us help you with the os5t advanced Glovo clone solution.

I hope you enjoy reading this blog post.
Would you like to get expert advice? Schedule a Call
About WebRock Media LLC
WebRock Media LLC comes with an incredible team of website and mobile application developers who can customize the perfect solutions to transform your business. We think ourselves to be an ideal 'Technology Simplified Destination' as we know how to perfectly merge creativity and programming to build robust websites for our clients.