home / blog / Build The Best Postmates Clone App for A Profitable Business Venture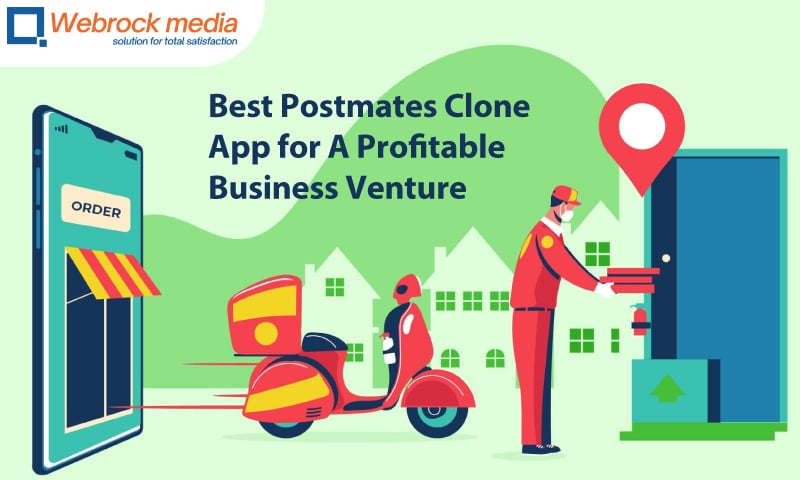 Webrock Media offers you a superior quality Postmates clone development service at an affordable rate to help you establish a rock-solid business in the industry.
Want to have your favorite pizza from your favorite Italian restaurant down the corner? Now imagine it's not just pizza, be it medicines, flowers, or anything else- you will get it at home! We can vouch that it is not just food but anything you want; you can get it by just ordering it online. The only thing that one would need to do is download the app, and you are good to go. But have you wondered what it would take to kickstart an app that can aid clients?
Today we are discussing one of the best food delivery apps ever – the Postmates clone App! The good thing about this app is that although we have introduced a couple of specifications to modify and upgrade it, we have tried to keep the framework the same. The venture ensures that each entrepreneur who wants to see something new and build a new horizon can do that effortlessly. Food delivery, no doubt, is a huge industry, and to bridge that gap, it is our onus to build the best clones.
At Webrock Media, we aim to make sure that we can focus on the best Postmates clone development and that too without compromising on the quality aspect at all. Our venture started as a journey to help individuals get the best clone app, and we have just tried to make it more sustainable with time. Postmates is one app that has taken the nation by storm and has completely revolutionized the way food delivery is seen.
We can vouch that if you want to start your very own app which aids you with delivery, it does not get better than a Postmates clone. The framework is ready; all you need to do is start with the business model. The delivery industry is particularly large, and at this juncture, it becomes extremely difficult to make it work if you do not have the best platform.
Webrock Media aims to get you this platform, and we want to ensure we can give you a clone that nobody can. It is important to remember that a clone is not a copy app. It is an app where we try to keep the idea the same but, at the same time, introduce innovation. After all, there is something that should make every app different from others! We can do that no matter which features you want us to add! It can change the face of the food delivery industry yet again, and you can take our word for that!
Top Features of the Postmates Clone App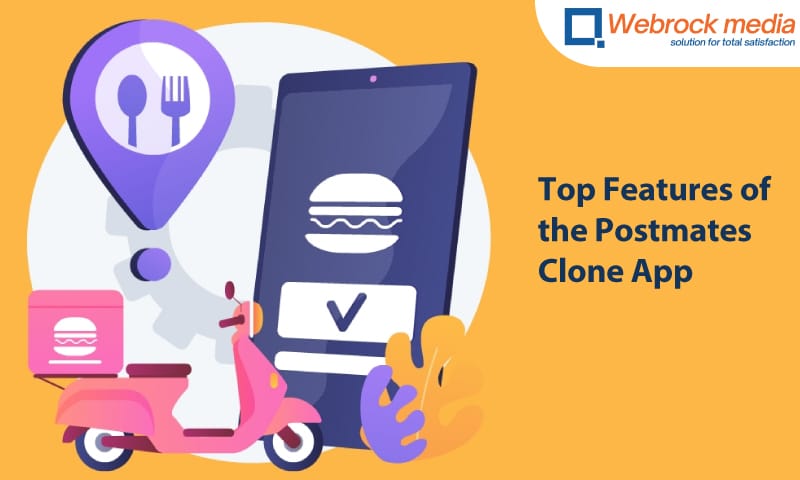 When entrepreneurs ask you why one should invest in an app like this, the features play the most important role. Not only that, but at the moment, the clone is the best Postmates alternative, and hence you can trust the features we provide. Some of the most important features of the clone app are:
1. User-Friendly Venture
Nobody has the time to extend time and energy to some platform that takes a lot of time to start. Hence we have tried to make the platform as easy as we can.
The signup process is also pretty straightforward, so you do not need to incorporate many details. You have to make just a few basic inputs, and your account is good to use!
2. Live Tracking
Once you have placed an order, you need to know where the order is to better prepare yourself for it. You also need to understand if the delivery person is reaching you via the right location or if there is some kind of problem in the route because of which he is stuck.
The live tracking feature is one of the best options in this case, and it can aid you in understanding where your order is now. If you see that they are stuck, you can contact the delivery person via in-app call or chat. It tends to make the communication process much more simple as well.
3. Safe Payment
When it comes to something like a Postmates clone, one of the most common points of worry that most individuals have is that they do not know if the payment is safe. Also, some users are exceptionally skeptical about the same and refrain from using the platform. It automatically tends to bring down the user base of the app.
However, we have tried to alleviate this distress and got you the safest payment option. We have incorporated it with the latest technology, ensuring that every payment you make is in safe hands. You can relax that our site is extremely well protected, so your money is safe with us.
4. Covid Special Features
The pandemic has rendered havoc on each of us, and there is one thing that we have realized. If you take ample precautions, it can automatically be safe for you and the people around you. To make sure that we keep your health under attention with our app, we have introduced the covid special features. The major fundamentals about these features are they will aid you in staying safe during times like Covid.
Here we have tried to incorporate options like contactless delivery, safety vaccine badge for the delivery executives, and online payment methods. It is a completely safe platform, so our clients can stay safe while ordering. As one of the top Postmates clone development services, we aim to make the app work best for you and enhance your experience.
What Can The Postmates Clone App Deliver?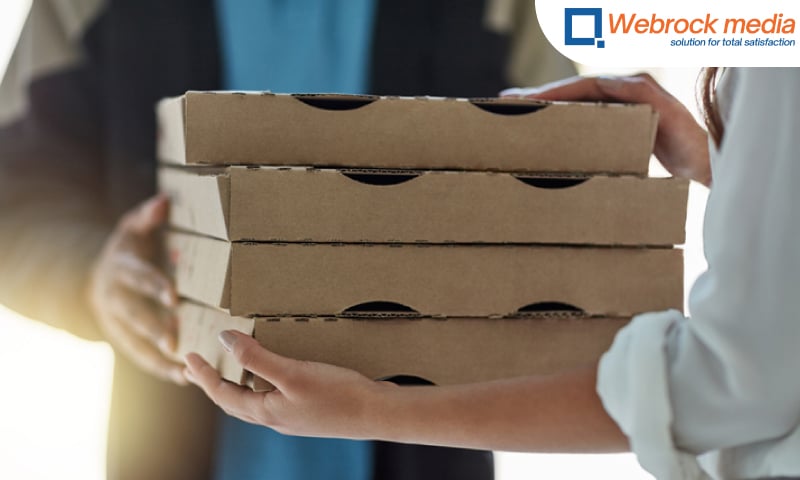 It is not just food; when it comes to the Postmates clone, it is such that it can deliver a lot of items very easily. In this case, some of the most important domains of our delivery service include:
The first service for which you can most certainly use our clone application is none other than the domain of food. It does not matter whether the restaurants are exceptionally big chains or standalone restaurants.
Such is the nature of the app that you will be able to incorporate them under the chain. Not only that, but in most cases, food delivery with the help of Postmates tends to work on the commission model. Hence it should not be difficult for you to gain revenue.
Today each of us is so busy that we hardly get the time to visit the store near us and get the grocery we need for the rest of the month. To ensure that this is not the case and you never run out of groceries, we have also incorporated the grocery delivery option.
The good thing about this delivery genre is that there is an innate need in the market, and hence it will be able to build a very promising chain. With the help of the app, you can bring in all the neighborhood grocery stores, and this one also works on a commission model. It aids the efficiency level of the client and makes it much more sustainable.
Yes, you read it right! Not many people know this, but the nature of medical marijuana is such that it can help you with its pain-free properties. The nature of the element is such that it is not easily available everywhere. With the Postmates clone app, you can get medical marijuana at your location.
The good thing is that the app is highly reliable, so you do not need to worry about anything else. Not only that, the interface is such that it will need the client to get their prescription on the account so that it does not foster any illegal activities.
Supposedly, you have an event at home or in your office. Water is one of our most basic needs, and to make it safe, most of us tend to depend on packaged water. But can you visit a store and then carry back dozens of bottled water? No right! Because of this, we have introduced this domain as well.
With the help of our packaged water service, we ensure you can get the same at your house in no time. It does not matter how many bottles of water you need; we will deliver the same in no time!
Some fresh flowers change the mood of your house, don't they? But not just for flowers at your house; you now choose to deliver the same to your near and dear ones. The idea is to acquire local flower vendors, and at the same time, it is difficult for them to reach out so widely.
Postmates clone makes it happen very easily, and you will be able to get the delivery without tampering with the quality of the arrangement of flowers. Clients will get fresh flowers, and that too without any hassles at all.
Having a party at your home and the alcohol finishes, do you need a supply for the same? Well, most of us do not have the will to get a refill. To make sure that you can get alcohol delivered to your customer's address and that too very easily, we have incorporated the concept of alcohol delivery as well.
We tend to connect you with the alcohol stores nearest to your location, and the good thing is that you do not even need to wait for long!
The framework of the clone app is such that it can get you all the important documents to your desired location in case you forget. Not only that, sometimes it does happen that we need stationeries but do not get the time to go out and buy them.
At such junctures, you can choose to depend on our documents and stationery delivery feature. No matter what you need, the app has got it, and the best thing is that the delivery is from the nearest stores. Hence, you do not have to keep waiting, and it can aid you during times of emergency too!
And finally, the last facet of our on-demand pickup and delivery app is none other than pharmaceuticals. It is quite a given that you can be so incredibly sec that you cannot leave the house and get the medical supply.
To help you during such times and ensure you never run out of medicines, we also have the pharmaceutical delivery option. The clients can choose to get whatever medicines they need, and usually, they will need to upload a prescription for the same.
Revenue Model for the Postmates Clone App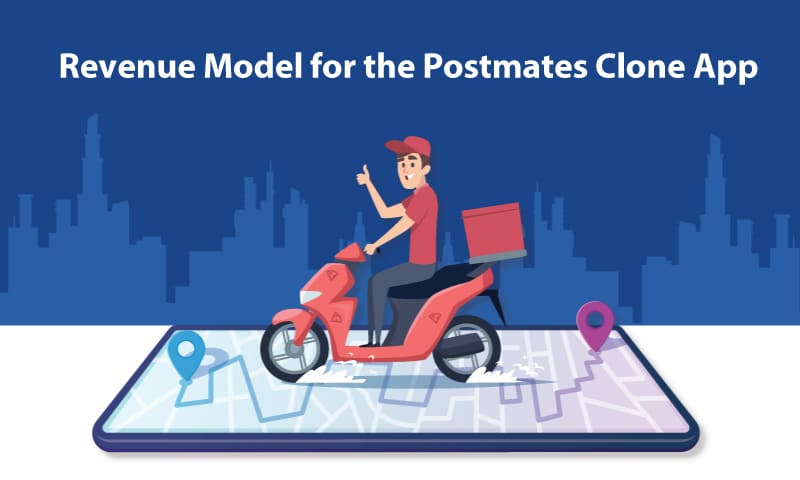 We have already made it clear that this particular clone app is probably one of the best you have in the market. But at the same time, it can be a little difficult to understand the revenue model and how entrepreneurs can make money out of it. After all, when investing in such an application, it is very important to understand how to get revenue from it. The revenue model for the Postmates clone app in this case is:
1. Big Chains Of Restaurants and Groceries
Entrepreneurs will be very easily able to generate revenues from big chain restaurants and groceries. The good thing about the application is that it will help one get easy delivery without any complications.
You can also work on a per-order commission order subscription basis for your needs. For any order they receive, they will pay you a certain percentage as a commission.
2. Small Stores
For each of the domains that we have mentioned, you can see that there are both big chains as well as small standalone stores. One of the major aims of these stores is to make sure that they can reach out to the masses to bring their products to the purview. An app like Postmates clone helps with that. You can generate revenue based on a subscription model from such stores.
Why Should You Hire Webrock Media to Develop Postmates Clone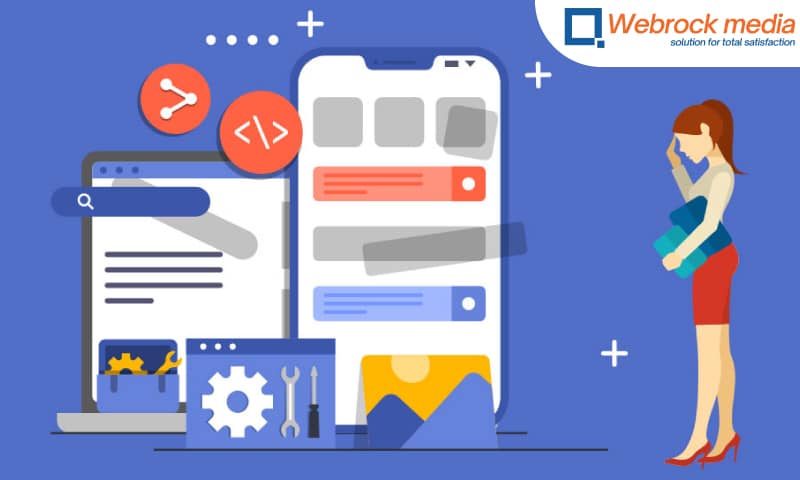 Webrock media is a reputed name in the app development industry. As an entrepreneur, you would know that developing an app like Postmates requires a high level of expertise and knowledge in app development. That's why hiring a company like Webrock Media is a smart move. Here are some reasons why:
Experience in app development
Webrock Media is a highly experienced app development company with a proven track record in developing apps similar to Postmates. We have worked on various app development projects, including Postmates clone apps, which means we have the expertise and knowledge required to create a high-quality app that meets your specific requirements.
Customization options
Webrock Media understands that every business has unique needs and requirements, and that's why we offer customizable solutions. We will work with you to understand your business needs and tailor the Postmates clone app to suit your specific requirements. We will customize the app to your business's unique needs, giving you a competitive edge over your competitors.
Quality assurance
Webrock Media understands that quality is paramount when it comes to app development. That's why we have a dedicated quality assurance team. Our QC team takes the app through a rigorous process of testing and ensures that the app is free of bugs and glitches before it is launched. You can be confident that the app will work seamlessly, providing your users with a smooth and enjoyable experience.
User-friendly design
Webrock Media understands that the user interface is crucial when it comes to app development. We have a team of skilled designers who will work with you to create an intuitive and user-friendly design that is easy to navigate. Your users will be able to use the app with ease, leading to increased user satisfaction and engagement.
Cost-effective solutions
Webrock Media understands that as an entrepreneur, you need to keep your costs low while still delivering high-quality solutions. That's why we offer cost-effective solutions that are tailored to your budget. We will work with you to create a solution that meets your specific needs without breaking the bank.
Timely delivery
Webrock Media understands that time is of the essence when it comes to app development. That's why we have a team of dedicated developers who work efficiently to deliver the app on time. We will work with you to set realistic deadlines and ensure that the app is delivered within the agreed-upon timeframe.
Ongoing support
Webrock Media understands that app development is an ongoing process that requires ongoing support. That's why we offer ongoing support to ensure that your app remains up-to-date and continues to meet your business needs. We will work with you to make any necessary updates and improvements to the app to ensure that it continues to perform at its best.
The Final Wrap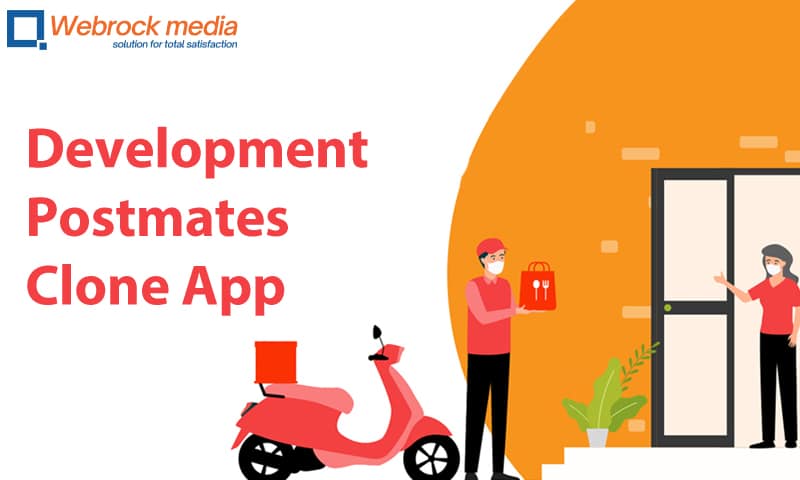 Webrock Media is an excellent choice for entrepreneurs who want to develop a Postmates clone app. We have the expertise, experience, and knowledge required to create a high-quality app that meets your specific needs. With their customizable solutions, quality assurance, user-friendly design, cost-effective solutions, timely delivery, and ongoing support, you can be confident that your app will be a success. So, if you're looking for a reliable and experienced app development company, look no further than Webrock Media.
If you want to venture into this world of delivery and want to start with the best clone application at the moment, feel free to get in touch with us at Webrock Media.

I hope you enjoy reading this blog post.
Would you like to get expert advice? Schedule a Call
About WebRock Media LLC
WebRock Media LLC comes with an incredible team of website and mobile application developers who can customize the perfect solutions to transform your business. We think ourselves to be an ideal 'Technology Simplified Destination' as we know how to perfectly merge creativity and programming to build robust websites for our clients.