I hope you enjoy reading this blog post.
Would you like to get expert advice? Click Here
home / blog / Fantasy Tennis App Development: Top Features And Plugins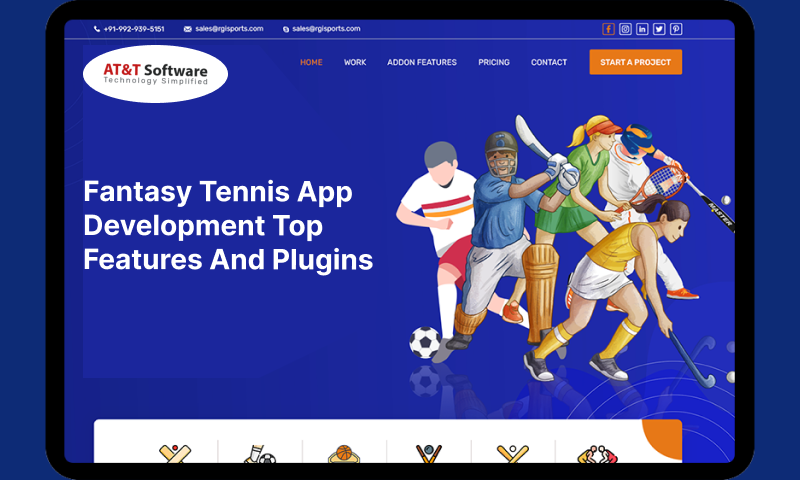 WebRock Media offers top-level fantasy tennis app development services at industry-competitive prices. Hire us for the best-in-class fantasy tennis app development services.
As per the latest numbers, tennis is the world's third most common sport, only superseded internationally by basketball and football. The fantasy tennis app has become more well-liked by tennis fans worldwide. The fantasy tennis software allowed users to compete in fantasy esports tournaments and show off their talent. Many enterprises and corporations started their journeys in the fantasy app arena after gaining money, thanks to the high positive consequence.
The market for fantasy sports is expanding in a cutthroat society. All market benchmarks and statistics will be surpassed by the fantasy sports app industry. In the US, fantasy sports are played by more than 65% of male users, and its users are increasing in India as well. You won't believe it, but tennis is not a national sport of any country, despite being one of the most popular sports in the world. To engage Tennis fans and monetize the app platform, consider launching a fantasy tennis app.
You should only work with the greatest app development service provider in the market when discussing fantasy tennis app development. And in such a situation, only an established app development company, like WebRock Media, can assist you in creating a feature-rich fantasy cricket app that provides the best UI/UX due to the high number of competitors in the market.
If we talk about WebRock Media LLC, it is an amazing online and mobile application developer that provides the ideal solutions to alter your company. We consider ourselves the ideal "Technology Simplified Destination" since we are skilled at fusing creativity and programming to construct our client's functional and reliable websites.
We use cutting-edge technologies to create a distinctive website tailored for your organization since we believe businesses need smarter solutions to succeed in today's digital environment. The goal of WebRock Media LLC is to maximize value for both your business and yourself. You can advance your company after you work with WebRock Media's professionals.
Go For Fantasy Tennis App Development Services And Monetize The App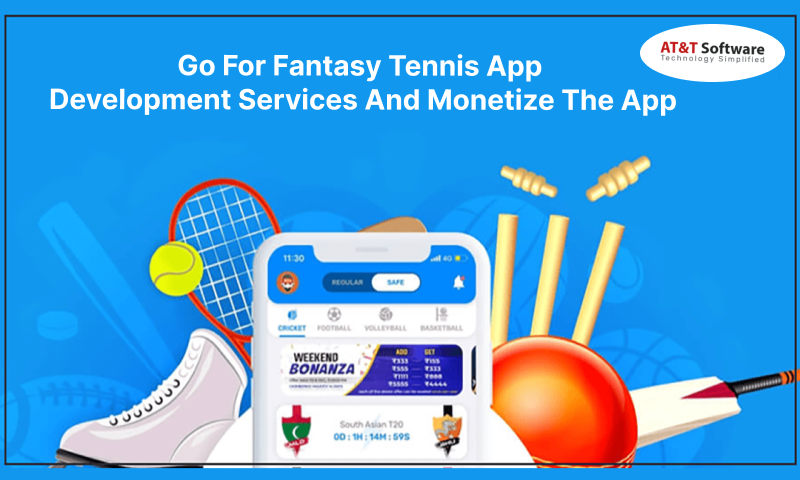 The goal is to create an all-encompassing fantasy tennis program that gives consumers the finest options possible. Because fantasy tennis rules differ from regular physical games, the app should contain all the features required to keep users interested.
However, we are confident that your time and work will be worthwhile if you make sure to apply the correct set of rules in the fantasy Tennis software. Contact the WebRock Media team right now to discuss your needs for fantasy tennis app development services, and we'll offer the best options for your business venture.
Fantasy tennis has grown in popularity over time with less of a backlog as a driving force. However, the issue that the majority of individuals typically run into is that they are unsure of which fantasy tennis app is up to par and, as a result, a game-changer in the industry. Over time, fantasy tennis apps have advanced quite a bit, but WebRock Media's name has consistently made the news.
If you want to discuss your idea for a fantasy tennis app, get in touch with us immediately, and we'll give you our best recommendation. We will support you in enticing and motivating your target audience to participate in the game.
What Does a Fantasy Tennis App Mean?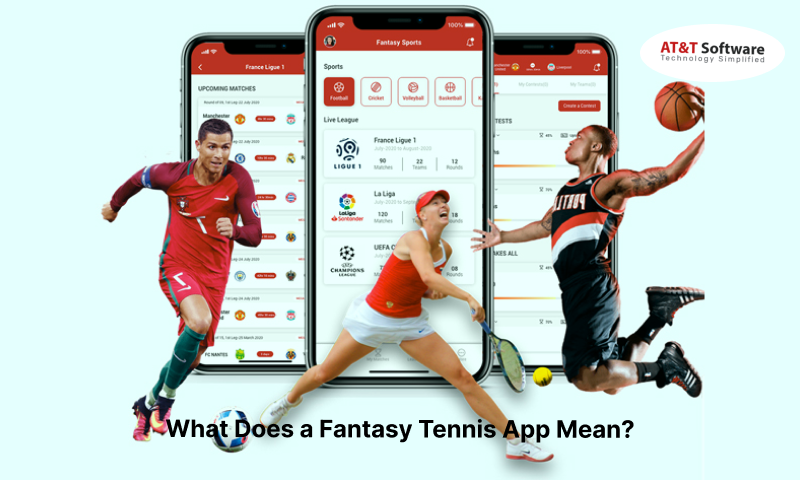 The fantasy tennis tournament is a competitive fantasy game in which players draft a team and choose players to compete against many other players based on their achievements. Based on an analysis of the participant's past and present performance, the winner is chosen and given fantasy points.
Most fantasy tennis competitions use one of three formats:
1. Daily Fantasy Tennis Competitions:
Due to their greater likelihood of success, these events are frequently held and are highly favored by participants.
2. Round Fantasy Tennis:
This can take up to 2-3 days, but it is the same as daily fantasy tennis.
3. Fantasy Tennis For The Entire Season:
This fantasy tennis competition is set up seasonally; the winner is decided after numerous rounds of play.
How is Fantasy Tennis conducted?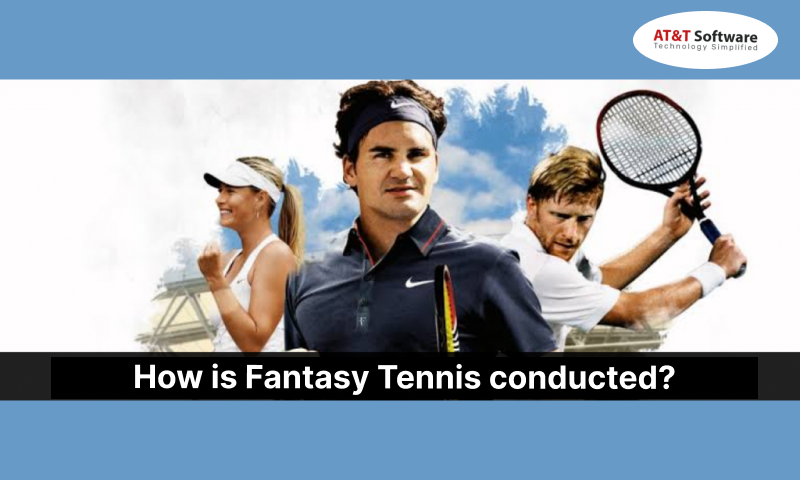 1. Choose from a variety of frequently occurring contests that are offered on the app.
2. Depending on their spending, users can choose between paid and free competition.
3. The user must use their tennis knowledge and experience to select the best players for their squad.
4. The user must then log live updates and videos from your match after that.
5. Users receive points based on the current benchmark of achievement on the court. The evaluation process for the winner is simple. You win the game if your team scores more points than your opponents.
What Is The Potential Of Fantasy Tennis Apps Earning?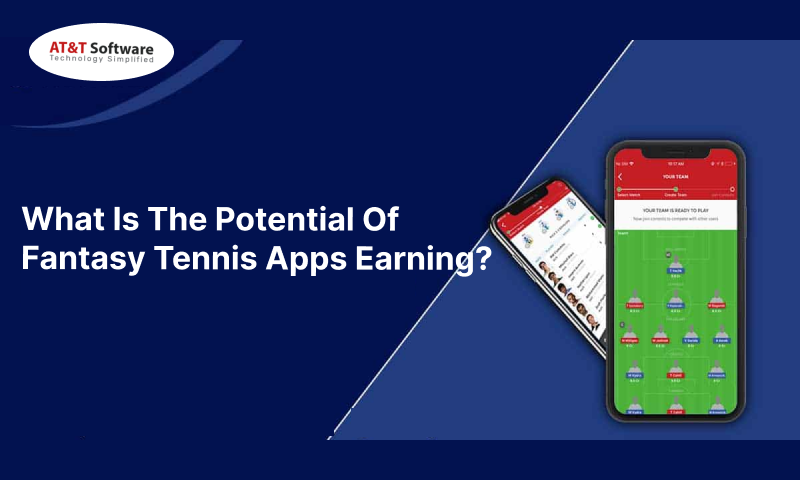 A fantasy tennis app can be used to generate income in a variety of ways. You can make a sizable amount of money from your fantasy tennis app in one or more of the ways listed below.
Monetization Models In The Fantasy Tennis App Include: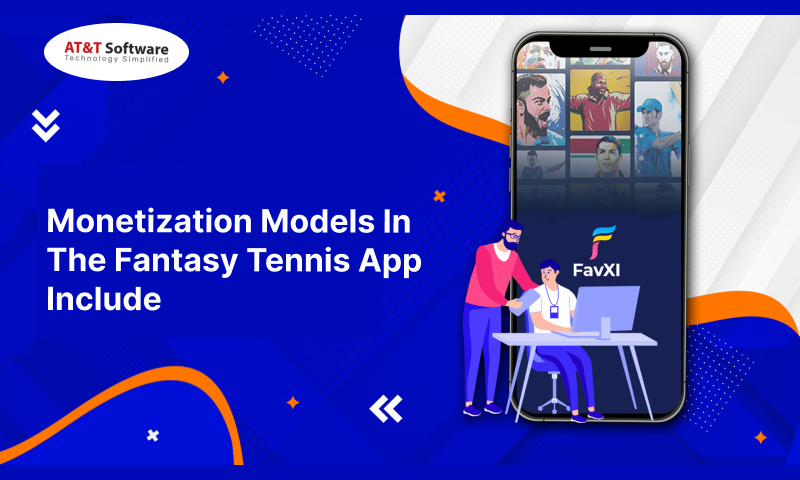 1. Tournament Entry Fees-
Collect match entry fees from players who want to compete in fantasy tennis tournaments to make a monthly income; because of the pull-roaring activities performed, players may continually use your program.
2. App Store Purchases-
By including the e-commerce component into these apps, Fantasy's revenue has significantly increased. Users of the app will be able to buy their preferred merchandise and anything else they like, thanks to this integration.
3. Promotions-
With a rising user base, fantasy tennis applications are a fantastic brand marketing tool. Advertise adverts from third-party businesses or companies for a certain fee.
Let's talk about the essential features and capabilities that will set your fantasy tennis app far apart from rivals.
Must-Have Features In The Fantasy Tennis App: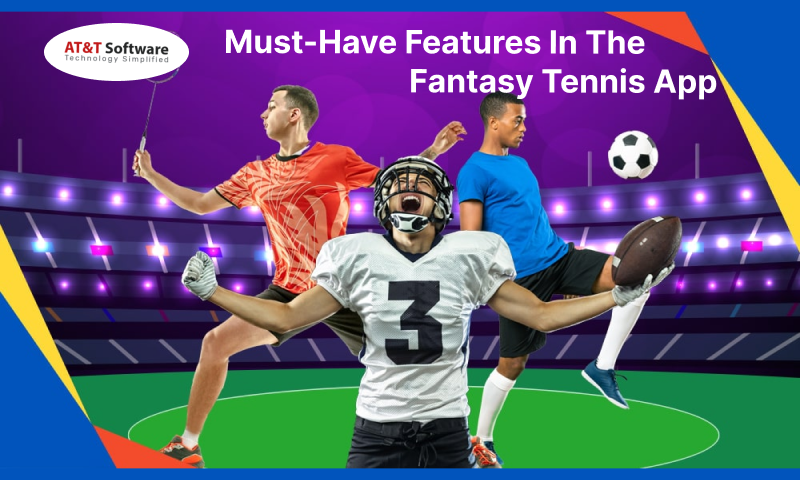 The features and functionalities of the program are what determines its success. It may surprise you, but features matter a lot. The primary features you should think about including in your fantasy tennis app are given below.
1. Social Framework-
Fantasy sports are shifting the trends. It's no longer only about getting rich. Users can join and communicate on your dream app using this feature to share their plans and triumphs because the future is social.
2. Multiple Competitions And Leagues-
Permit your fantasy tennis app to establish different competitions and games. Users enjoy Head-to-Head matches, social leagues (public leagues), exclusive (private) leagues, and many other tournaments on Facebook & Twitter. This feature also enables users to design and coordinate a fantasy tennis competition on any other social media network, which raises the exposure of the game and improves participation.
3. Referral Bonus-
A feature for a fantasy tennis app that is worthwhile to download. Make your customers your brand's marketers or promoters. Let them encourage their friends and family to join and play on your fantasy app and gain a cash reward or referral bonus using multiple channels (email, social media, and Whatsapp) to highlight their achievements and milestones.
4. Team Selection-
This function assists users in selecting and managing their fantasy tennis teams in the most informed manner possible. In addition, this function gives users thorough information on the modes, statistics, and other player-supporting factors.
5. LeaderBoard-
With its cutting-edge leadership board, this feature will amuse your users. Users can utilize this tool to view their progress at different points. By including filters and portion options in the leaderboard, you may further improve and add complexity while giving the customer access to precise statistics.
6. Alerts For Player Selection –
The choice of a fantasy team can be very difficult, and occasionally users or participants will need professional assistance. Users who use this feature will receive personalized notifications regarding the best player pairing and the split between men and women who will be selected. This function aids in gaining the respect and loyalty of users of your application.
7. Player Details-
This feature enables users to complete the full description of tennis players, including player performance, matches played, matches won, years of experience, and many more, prior to forming a fantasy tennis team. This feature will increase the user's chances of success if they pick their squad.
8. Game Times And Personalized Emails-
To keep the user informed, the scheduling tool tags all upcoming tennis matches and tournaments with all of their information in a calendar. The bespoke email tool, however, would send consumers personalized email reminders to remind them of the next fantasy games.
9. Provider-
The addition of the real-time chat feature to the fantasy tennis program helps the administrator to efficiently and effectively address the complaints of users taking part in various fantasy tournaments and matches.
10. Updates On Leagues-
This analytical function will help users and admin make quicker, better decisions by giving them real-time information about games or competitions that are now in progress. Additionally, reports on the app's performance, information on previous matches, and winner specifics are included in this feature.
These viewing options are a necessity for your fantasy tennis apps. You need a solid tech stack to implement the aforementioned functionalities in your fantasy app. We've provided a list of some of the top technologies that can be used to create a top-notch, feature-rich fantasy tennis app below. So look at it.
Technologies Used To Build Fantasy Tennis Apps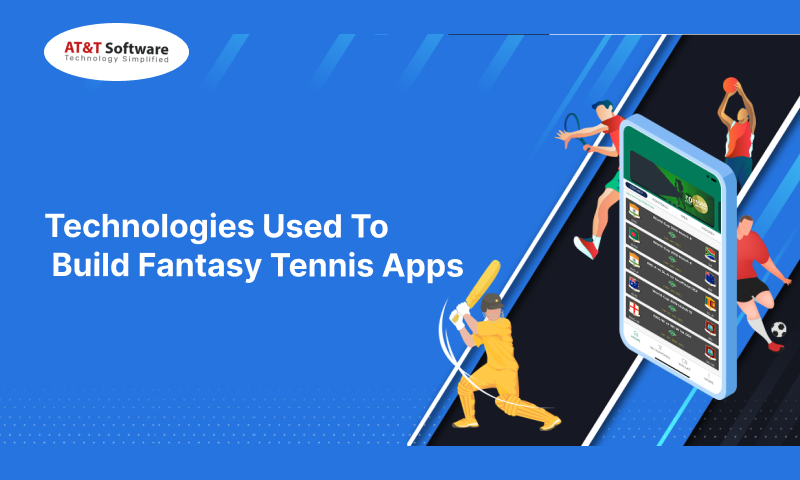 For Android – Java, Android SDK, Kotlin, ROR, Node JS, Codeigniter, React, Vue JS.
For IOS – Objective C, Swift, Node JS, ROR, Laravel, Codeigniter, fabric IOS.
Database – MySQL, MongoDB, Redis.
Cloud – AWS, MS Azure.
Payment gateways – PayPal, Stripe, Braintree, Mangopay.
Push notifications – Twilio, Amazon SNS, MAP.
Analytics – Gleam IO, Google Analytics, Spark.
Another stack – Sketch, Joomla, Magento, Drupal, Prestashop, Xcode,
GeoFence, SASS, ZOHO, express JS, Vanilla JS.
Why WebRock Media For Fantasy Tennis App Development Services?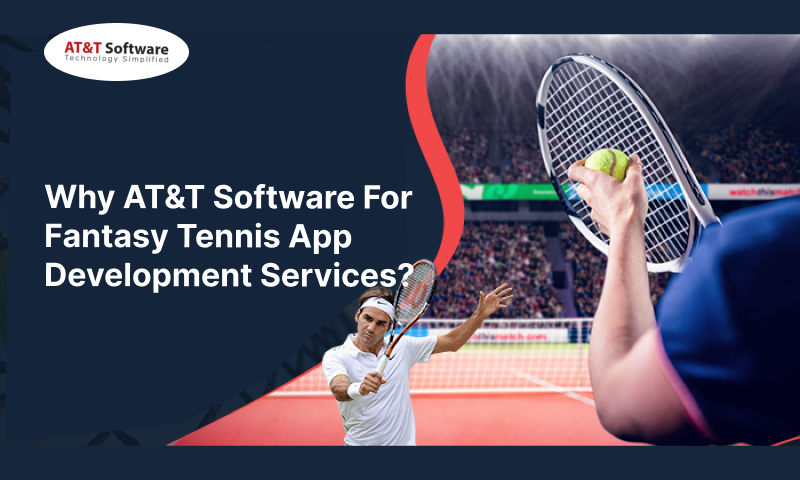 High-Quality App Development Services
WebRock Media is a reputed app development agency offering top-notch fantasy tennis app development services to clients from different regions. We ensure to develop high-quality apps with the best UI/UX so that all your app users can find it convenient to use the app and also prefer it over competitor's apps in the market.
Affordable App Development Cost
We at WebRock Media offer you budget-friendly fantasy tennis app development solutions. We consider many aspects, such as the app features you want to incorporate, your target audience, the kind of products you offer, the monetization model, etc., before deciding on the app development process and its pricing. We urge you to discuss your app development requirements with us so that we can analyze them and accordingly give you a rate quote. We always take care to provide robust app features so you can draw in plenty of users and monetize the platform as you see fit.
On-Time Delivery
We at WebRock Media ensure to deliver your project within the timeline. At the beginning of the project, we discuss the app features and the complexity of the app and decide the timeline accordingly. Once you approve that, we commence with the work and always finish it on time. We have garnered many accolades for completing our app development projects within the desired timeline and assisting our clients in achieving their business goals.
Transparent Policy
We at WebRock Media always maintain open communication to explain all our policies to our clients. From the moment you come to us with your fantasy tennis app development project idea until we launch your app for customer downloads, we maintain a clear and transparent policy with all our app development projects. To help you understand what you will receive when the project is completed, we give you an app walk-through. Additionally, we provide you with a pricing quote for the same so that there are no unexpected fees when you make the final payment.
Wide Portfolio
We at WebRock Media have worked on multiple app development projects that involve fantasy tennis app development, and each time, we have ensured to offer the best app solutions to our clients. You can check through our rich app portfolio to understand our quality of work and accordingly discuss your fantasy tennis app idea with our highly experienced app developers.
Support and Maintenance
The best part about associating with WebRock Media is that you will get app support to ensure high app functionality as and when you require it in the future. In order for you to successfully attend to the needs of your customers and make the most of the app's monetization model, our goal is to provide the users of your app with uninterrupted app service.
Conclusion: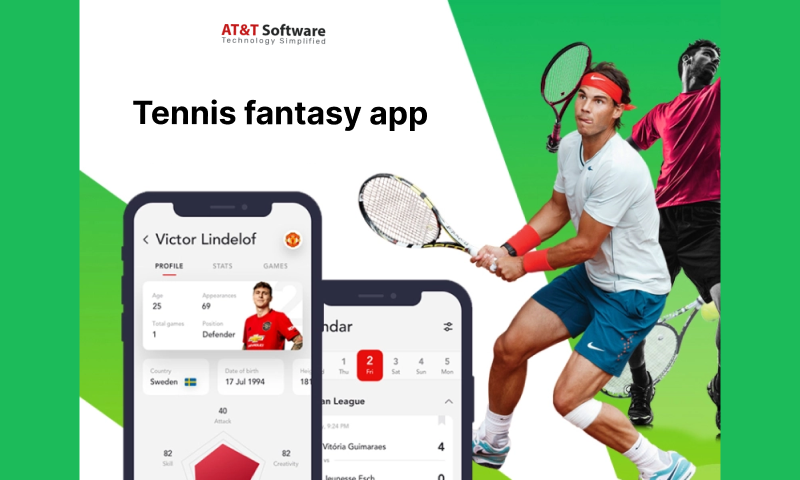 We trust that you have a thorough understanding of the blueprints and specifications needed to develop the tennis fantasy app. The market for fantasy apps is expanding quickly all around the world. If you want to start your business with fantasy apps, the procedure is not too complicated. If you are honest when providing the data that you want in your fantasy tennis app, you can also start out well.
By investing in a fantasy tennis app, you can become a prosperous aspiring businessman by working with a top fantasy app development firm like us.