home / blog / WordPress Emergency Support: Reduce Site Downtime and Save Your Business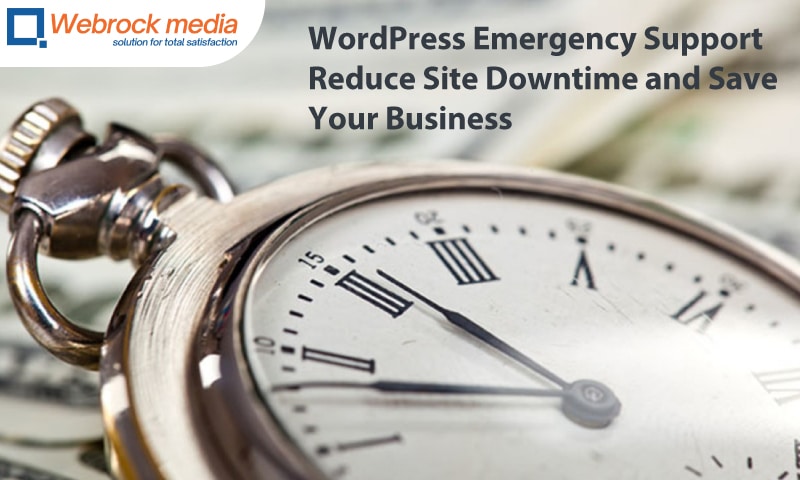 Webrock Media offers you best-in-class WordPress emergency support to quickly resolve critical website issues, mitigate downtime and have your site back up and running.
Webrock Media is a leading WordPress emergency support provider with happy clients across countries. Our team of expert WordPress developers and WordPress emergency support providers works round-the-clock to help businesses manage their sites in case of an emergency. Our WordPress experts and developers offer optimum support to help website owners quickly resolve critical issues on their WordPress websites.
Seeking WordPress emergency support can help you to mitigate website downtime and get your website back up and running in the event of unexpected issues. WordPress websites can face crashes, hacking attempts, plugin issues, theme conflicts, or other technical problems. Our WordPress emergency support is available 24/7, ensuring quick response times and solutions to your website's emergency issues. We have the expertise and experience to diagnose and fix urgent website issues quickly and efficiently.
WordPress emergency support offered by Webrock Media covers a range of services to address critical website issues. Here is what you can expect from our expert WordPress emergency support staff.
Website restoration from backups
Malware removal and security hardening
Plugin and theme conflicts resolution
Website crash recovery and troubleshooting
Database optimization and recovery
We have designed our WordPress emergency support to address unexpected and urgent issues that can cause significant downtime and business disruption. We provide quick and effective solutions to get your website back up and running and minimize potential damage.
What We Do Under Website Restoration From Backups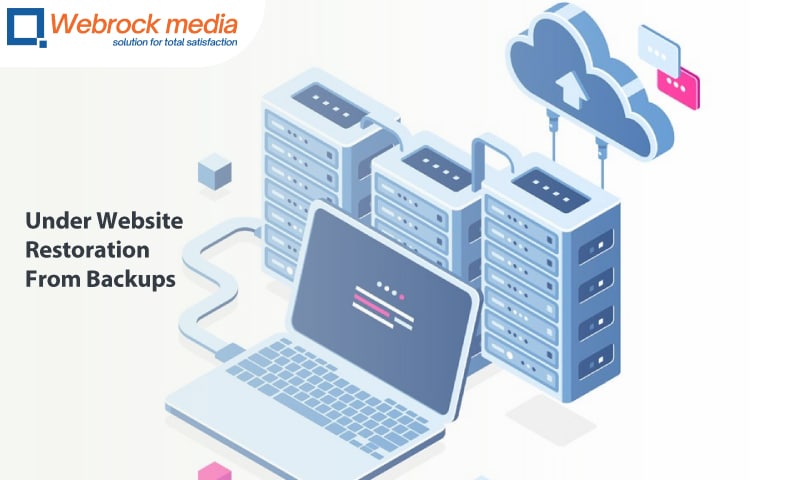 Restoring a website from backups involves recovering lost or damaged data from previously saved copies of the website. We at Webrock Media have a dedicated team of professionals who perform website restoration work from its backup and that too quickly so that we can restore your business website and make it functional again for end users. We work with the only aim of helping you with a fully-functional website and reducing the chances of any potential loss. Here are the steps to restore a website from backups:
Identify The Cause Of The Website Damage Or Loss:
Before restoring the website, we determine the cause of the damage or loss. And this helps us identify the most recent backup that contains the data and accordingly work on it further.
Locate The Website Backups:
The website backups are sometimes stored on an external hard drive, cloud storage, or a backup server. Once we locate the backups, we download the files to your computer and restore them on the website.
Verify The Backups:
Our expert WordPress emergency support team will verify that the backup is complete and can be restored. We do this by checking the file size and date of the backup files and accordingly act on restoring the same.
Restore The Website:
The process of restoring the website generally depends on the type of backup you have. We directly upload the files to your web server if you have a full backup. If you have a partial backup of the website data, we will upload the missing files and folders manually and then upload them on the server.
Test The Website:
After restoring the website, we test it to ensure everything works correctly. We check all the pages, links, and functionality to confirm that the website is fully restored and ready for end-user access.
Take Preventative Measures:
To prevent future website damage or loss, we take preventative measures like creating regular backups, installing security plugins, and updating your website software regularly.
Restoring a website from backups can be a complex process, and taking expert help is the best solution. Those who are familiar with web development and server administration can offer you the best services. We recommend you contact us immediately for assistance so that we can help you minimize the loss and have your business website fully up and functional as soon as possible. Contact Webrock Media today to know more about our WordPress emergency support.
What We Do Under Malware Removal And Security Hardening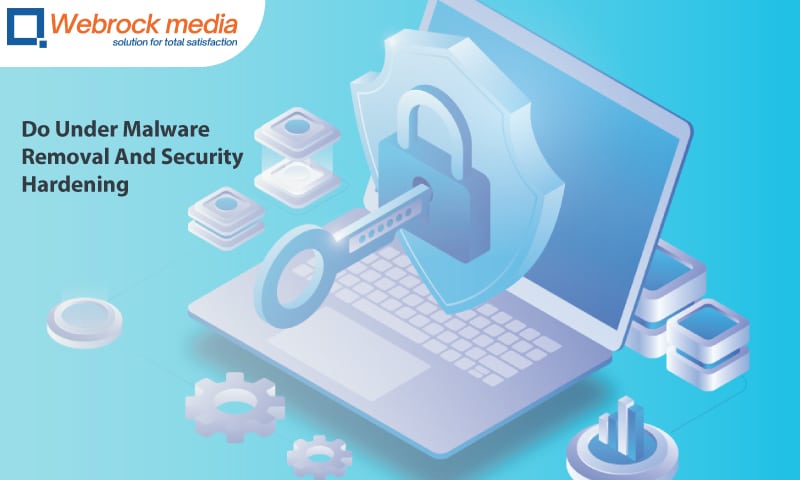 Malware removal and security hardening are important steps to protect your website from security threats and prevent further damage. We at Webrock Media perform every security step to ensure your website is free of malware and also harden the website's security. Here is what we do to remove malware and tighten your website's security:
Backup Your Website:
Before removing malware or making security changes, we always back up your website data to avoid data loss.
Scan Your Website For Malware:
We use different tools and antivirus software to scan your website for any malware. We identify infected files and code and remove them so that your business can function optimally and end users can access it conveniently.
Update Your Website Software:
An outdated website software can make your website vulnerable to security threats. We update your website software, including CMS, plugins, and themes, to withstand future threats.
Use Strong Passwords:
We suggest you use strong passwords for all website accounts, including admin accounts, FTP, and other database access. Having strong passwords with a combination of different characters will help you keep your site protected.
Install Security Plugins:
We install security plugins to prevent security threats like brute force attacks and spam comments. We use the latest security plugins to keep your website safe and protected in the future.
Use SSL Encryption:
We also install SSL encryption to secure your website traffic and protect user data so that it remains safe from all kinds of security threats.
Limit File Uploads:
We also limit file uploads to specific file types and sizes to prevent malware from being uploaded to your website.
Secure The Hosting Account:
Also, we perform a security check to make sure your hosting account is protected by firewalls, anti-malware software, and strong passwords.
Monitor Your Website Regularly:
As you hire us, we monitor your website regularly for any unusual activity and use website security tools to identify and fix any security issues.
We at Websock media do everything to remove malware from your website and harden its security to prevent further attacks. Contact us today to discuss your requirements for WordPress emergency support, and let us provide you with the best services.
What We Do Under Plugin And Theme Conflicts Resolution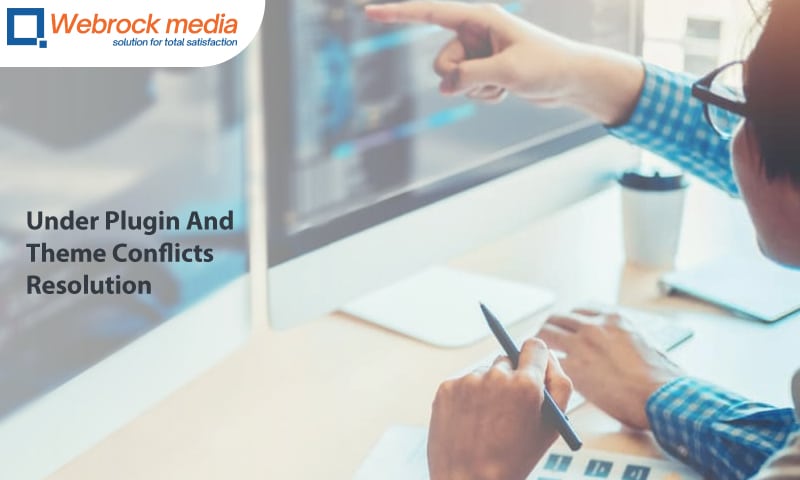 Plugins and themes can sometimes conflict, causing your website's functionality issues. Hiring experts from Webrock Media is the best step you can take toward obtaining WordPress emergency support and optimizing your website security. Here are some steps we take to resolve conflicts between plugins and themes:
Identify The Conflicting Plugins Or Themes:
In case of a website emergency, we start by identifying the plugins or themes causing the conflict. We start the process by deactivating one plugin or theme at a time and checking if the issue is resolved.
Update Plugins And Themes:
We also update all plugins and themes on the website and ensure that they all are up to date, as outdated versions can cause conflicts and hinder the website's functionality.
Check For Compatibility:
We ensure that the plugins and themes are compatible with each other and your website's platform. You can find this information in the plugin or theme documentation.
Use A Default Theme:
While checking the website theme and plugin conflict, we temporarily switch to a default theme to see if the issue is with your current theme and act accordingly to fix the issue.
Check Error Logs:
We check your website's error logs for any error messages related to the plugins or themes causing the conflict. Error logs sometimes provide valuable information to help diagnose the issue.
Use A Conflict Resolution Plugin:
Several plugins, like WP Plugin Performance Profiler, can help you identify plugin conflicts and troubleshoot issues. We use all necessary tools to find out the real issue with your website and work accordingly to fix it.
As our clients contact us for your WordPress emergency, we act fast and get on with our work to identify and resolve conflicts between plugins and themes and restore your website's functionality. It's important to address conflicts promptly to ensure your website remains stable and functional. So, if you are facing issues with your website, just get in touch with us immediately, and let us start fixing the theme and plugin conflicts.
What We Do Under Website Crash Recovery And Troubleshooting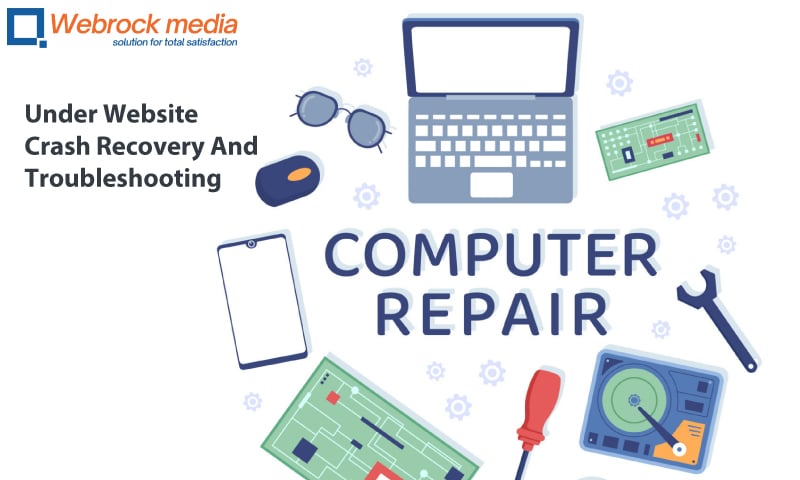 Webrock Media is a leading web hosting and website management company that provides clients with a wide range of services, including website crash recovery and troubleshooting. Website crashes can occur for various reasons, from server issues to coding errors, and they can significantly impact a website's performance. In such cases, hiring a reliable and efficient team can help you quickly diagnose and resolve the issue.
Here are some ways in which Webrock Media can help with website crash recovery and troubleshooting:
Backup and Restore Services
We at Webrock Media take regular backups of websites, ensuring that all data and files are safe and secure. In the event of a crash, we can quickly restore the website to a previous version, minimizing downtime and loss of data.
Server Monitoring and Maintenance
Webrock Media has a team of experts who monitor server performance and maintenance, ensuring identify issues quickly and resolve them before they can cause a website crash.
Code Review and Optimization
Website crashes can also occur due to coding errors or inefficient code. We offer code review and optimization services, identifying any coding issues that may be causing the website to crash and optimizing code to improve website performance.
24/7 Technical Support
Webrock Media offers round-the-clock technical support to clients, ensuring that any website issues are quickly resolved. Our team of experts is available to assist clients with troubleshooting or recovery needs.
Security Monitoring and Threat Detection
Website crashes can also occur due to security breaches or malware attacks. Webrock Media offers security monitoring and threat detection services, ensuring to quickly identify and resolve any security threats.
Website crashes can negatively affect a website's performance and result in data loss and revenue loss. In order to assist clients in recovering from website crashes and identifying any problems that may be to blame, Webrock Media provides a number of services. You may feel secure knowing that their websites are secure thanks to our knowledgeable team and 24/7 technical assistance.
What We Do Under Database Optimization And Recovery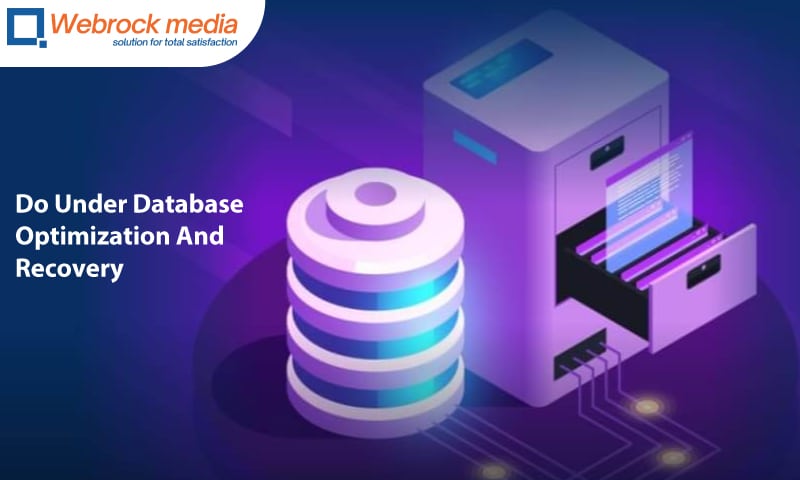 We are a preferred web hosting and website management company, offering a range of services to help businesses optimize their databases and recover from any issues that may arise. Databases are an essential component of any website, storing critical data required for the site to function correctly. However, database issues such as slow performance, corrupted data, and lost data can significantly impact website performance.
Here are some ways in which Webrock Media can help with database optimization and recovery:
Database Optimization
Webrock Media has a team of experts who specialize in database optimization. Our experts can identify any issues that may be slowing down the database and optimize the database to improve performance. We may also reduce the size of the database, improve its indexing, and streamline queries to find an optimum solution.
Database Recovery
We can quickly recover the database in a database crash, ensuring no data is lost. We use various techniques to recover data, including backup restoration and data recovery software.
Data Migration
Webrock Media also offers data migration services, helping businesses move their databases from one platform to another. And this includes migrating data from legacy systems to newer platforms, ensuring that the data is migrated safely and efficiently.
24/7 Technical Support
Webrock Media offers round-the-clock technical support to clients, ensuring that any database issues are quickly resolved. Our team of experts is ready to provide on-demand services and assist you with all kinds of WordPress emergency needs.
Webrock Media offers a range of services to help businesses optimize their databases and recover from any issues that may arise.
What Can You Expect From Webrock Media In Case Of A Website Emergency?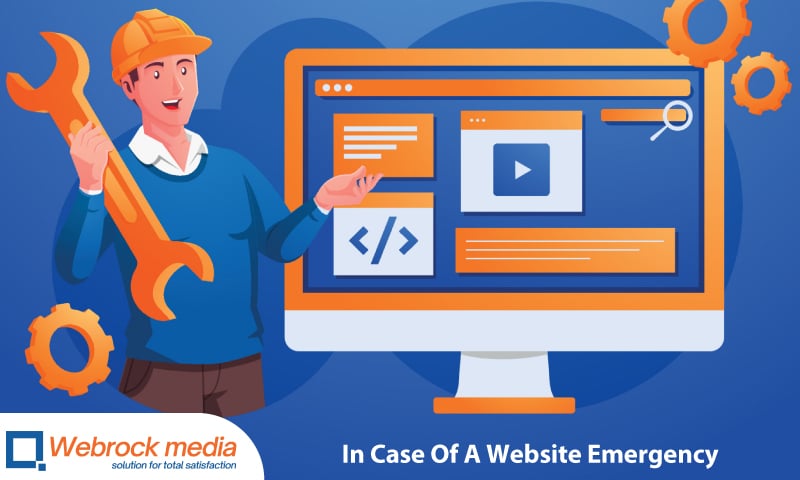 Webrock Media has an expert WordPress emergency support team with years of experience in helping clients manage their websites well and reduce site downtime and disruptions in their business. As one of the country's top WordPress emergency support providers, we provide immediate assistance to resolve your critical issue. We have experience handling urgent WordPress issues, and we are available 24/7 to support your business, deal with any WordPress emergency and mitigate any business disruptions.
Here is what you can expect from Webrock Media, one of the best WordPress emergency support providers:
Prompt Response:
Webrock Media's WordPress emergency support team responds quickly to your inquiry and starts working on your issue immediately. We at Webrock Media understand that time is of the essence when it comes to emergency support. We have a quick response time, typically within minutes of receiving a support request. You can get your business website back up and running as quickly as possible. We will do everything to minimize downtime and potential revenue loss.
Diagnosis of the Issue:
Once we receive a request from a client for emergency support, we start with a comprehensive diagnosis process to identify the root cause of the issue. We act fast and do our job of finding the cause of the site's downtime quickly and accurately, and we use our experience and expertise to fix it at the earliest. Our expertise and experience in the field help us determine the most effective solution to resolve the issue and prevent it from happening again.
Efficient Solutions:
Webrock Media provides efficient solutions to emergency issues, such as website crashes, hacking attempts, malware infections, plugin or theme conflicts, and other technical problems. Our team has a lot of experience in handling a wide range of WordPress emergency issues. We work diligently to resolve the issue as quickly as possible. Webrock Media's WordPress emergency support team will provide an efficient solution to the problem and implement it as quickly as possible to minimize site downtime.
Security Measures:
If the emergency issue is security-related, Webrock Media will take immediate security measures to prevent further damage. We undertake a security audit of your company's website to identify any vulnerabilities and implement security measures to protect the website from any kind of future attacks. If the issue is security-related, we will deploy immediate security measures to prevent further damage and ensure the restoration of your business website quickly.
Communication:
Webrock Media understands that communication is crucial in emergency situations. We will keep the business informed throughout the process and provide regular updates on the progress of the issue resolution. We also provide clear instructions to help you prevent similar issues from occurring in the future.
Backup and Restore:
Based on the situation and the condition of your WordPress website, we restore your website from a backup, ensuring that your business website is up and running at the earliest. We solve all the issues and do everything necessary to make your website up and running again. We also offer backup solutions to businesses, which can help prevent future data loss or website downtime.
Ongoing Support:
Webrock Media provides ongoing support to businesses to ensure that their website remains secure and functional. We offer website maintenance services, which include regular updates, security checks, and optimization, to prevent future issues from occurring.
Summary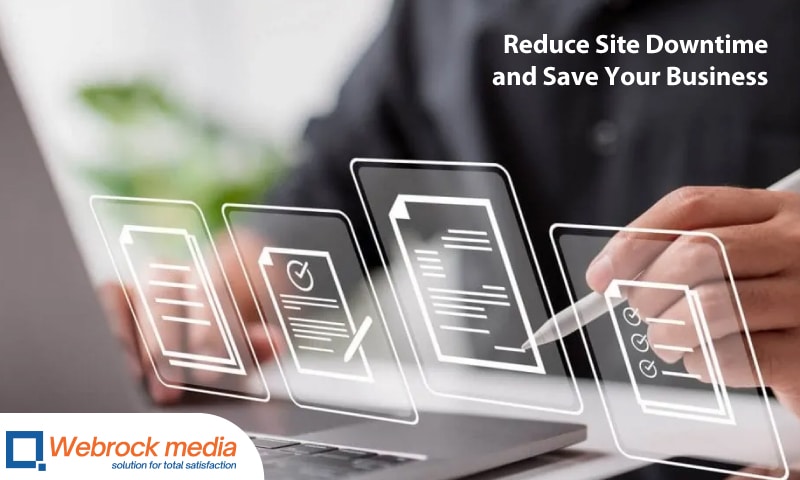 Being the top WordPress emergency support provider, you can expect Webrock Media to provide a fast and effective resolution to your critical issue, allowing you to get back to business as usual. Businesses can expect fast and effective support from Webrock Media when they hire us as their WordPress emergency support provider. We have the experience, expertise, and dedication to help businesses resolve critical issues and minimize downtime. With Webrock Media, businesses can rest assured that their website is in safe hands, and they can focus on running their business without worrying about technical issues.

I hope you enjoy reading this blog post.
Would you like to get expert advice? Schedule a Call
About WebRock Media LLC
WebRock Media LLC comes with an incredible team of website and mobile application developers who can customize the perfect solutions to transform your business. We think ourselves to be an ideal 'Technology Simplified Destination' as we know how to perfectly merge creativity and programming to build robust websites for our clients.