home / blog / Launch a Handyman App for Busy Homeowners and Streamline Home Affairs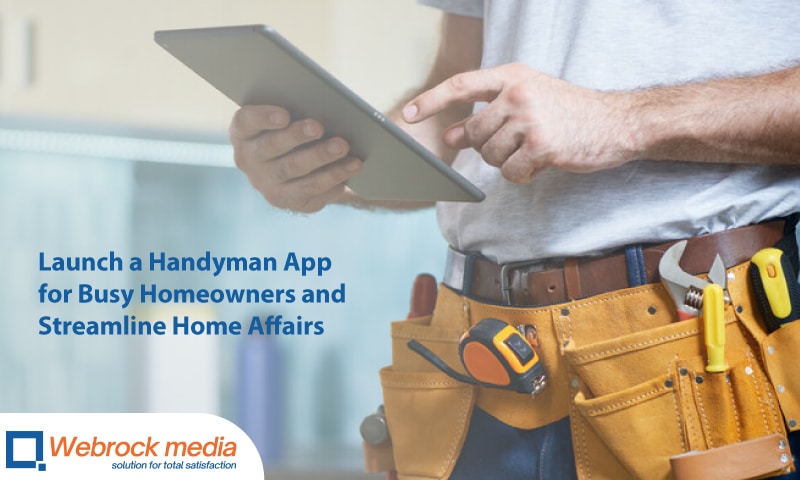 Webrock Media offers superior quality Handyman app development services at the most affordable rate to help you start a new business and effectively cater to millions of customers.
Launch a robust and engaging Uber app for handyman services that enables seamless connections between service seekers and providers across the country. We at Webrock Media carefully design our 100% Whitelabel solutions to provide the appropriate solutions to your clients at the appropriate moment.
Get in touch with us today and discuss your handyman app development solution, and we will provide you with the most advanced app solution for your customers.
Uber for Handyman App Development Solution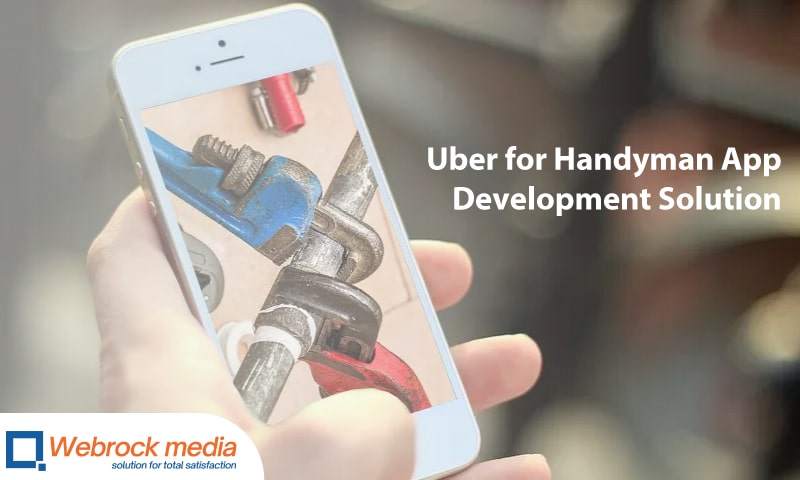 Homeowners frequently run into a variety of simple tasks that call for professional aid. Things like washing the car, cleaning the house completely, maintaining the appliances, and replacing the leaky kitchen faucet. You must acknowledge the truth that, over time, your lives have become more stressful and frantic. Formerly small and simple tasks now demand assistance. The difficulty arises if you are a stranger to the city as well.
You have no one to ask for guidance, and you have no idea how to set up even the most basic features of your new home. You can use a handyman app to help you in this case.
Business Models, You Can Have with Our Handyman App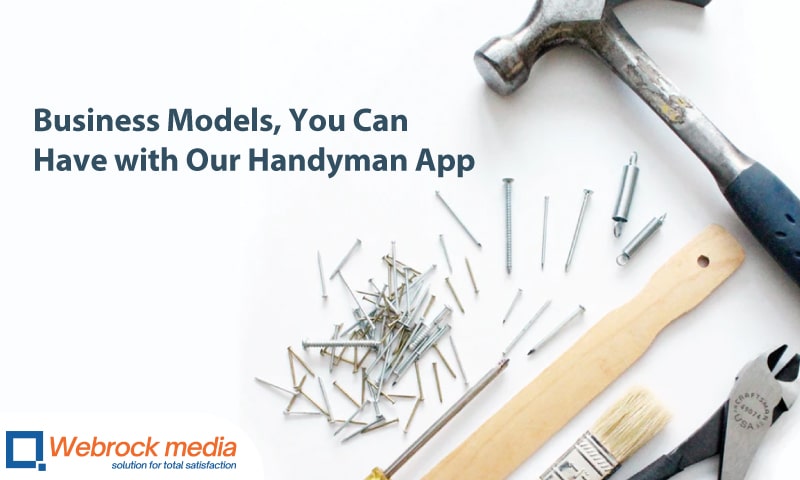 Home Service Business
We at Webrock Media make it as simple as possible for you to start your handyman business online. We assist you in growing your customer base while using a powerful, personalized dashboard to manage bookings and personnel.
Single Service Aggregator
We assist single-service aggregators by developing a specialized service app that enables companies to assist in satisfying high-demand service verticals, similar to car wash applications. Use our dependable solutions to establish a strong niche.
Multiple Service Aggregator
With the help of our Uber for Handyman app development services, you can create a trustworthy services marketplace where homeowners can easily access local services provided by professionals who are 100 percent authentic.
What Services Can You Offer Via The Handyman App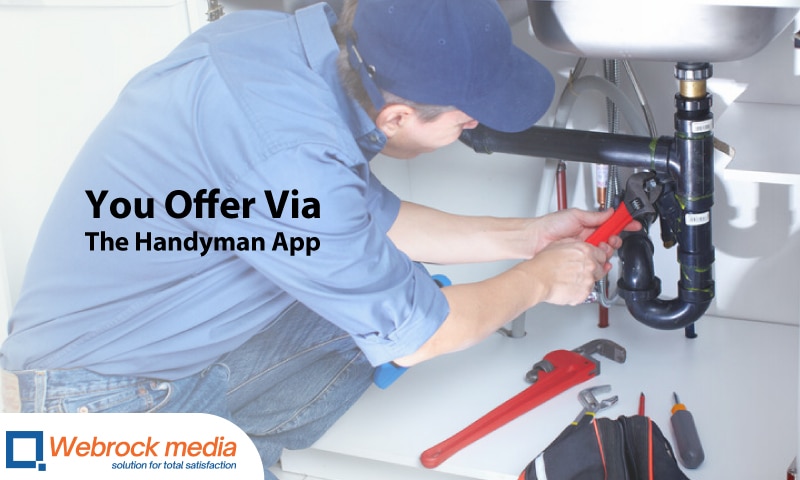 Handyman services include a wide range of home maintenance, repair, and improvement tasks usually done by skilled professionals or tradespeople. These services may include plumbing repairs, electrical work, carpentry, painting, and general maintenance and cleaning. By developing a handyman app, you can cater to homeowners, renters, and property managers who need small repairs or maintenance done. Handyman services can be used just once or on a regular basis to keep a property in good shape.
As an entrepreneur, you can choose to provide a lot of services to your customers and add value to their lives. Here is a list of services you can add to the list on your handyman app.
Home Improvement
Home Repair
Home Maintenance
Electrical Work
Painting
Cleaning
Plumbing
Carpenter
Gardener
Meal Delivery
Baby Sitting
Childcare
Beauty
Salon
Pet Sitting
Event Planner
You can also choose to provide different kinds of services to your customers and accordingly generate revenues from that. Offering convenient and cost-effective Handyman services will help customers take care of small repairs and maintenance tasks around the house without hiring multiple contractors or spending a lot of time and money on larger home improvement projects. With Uber for Handyman app development solutions, you can set up a reliable service marketplace where homeowners can easily get local services from 100% real professionals. And this will help your business run smoothly.
Contact us today to know more about our app development services and how we can add value to your project. We also help you in a variety of ways to make your handyman app a super successful business venture.
Get A Custom Uber-like Handyman App Development Solution From Webrock Media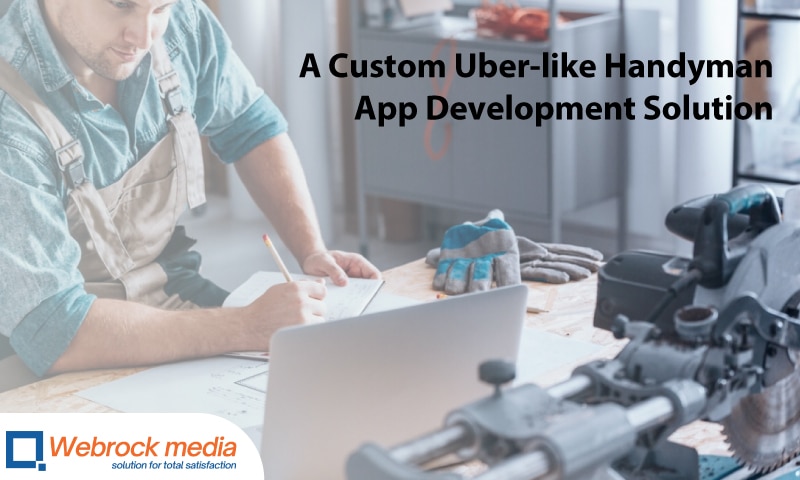 We at Webrock Media create and deploy interactive uber for handyman app development solutions so that each person working for your company has their own app, including the admin panel and apps for customers and service providers. The handyman app will have three different segments.
Customer App
Service Provider App
Admin Panel
Get in touch with Webrock Media and discuss your handyman app development requirements. We will analyze your requirements and accordingly give you a solution. We will also explain to you the app development stages so that you get to know what you can expect from us after you hire us to develop and deploy the handyman app. We also give you a rate quote for the same so that you can be aware of what you are going to spend on the app. And we also help you with a simple app monetization model so that you can create a plan for generating income through the app. Contact us today, and we will help you with the best handyman app development solution.
Features of Customer App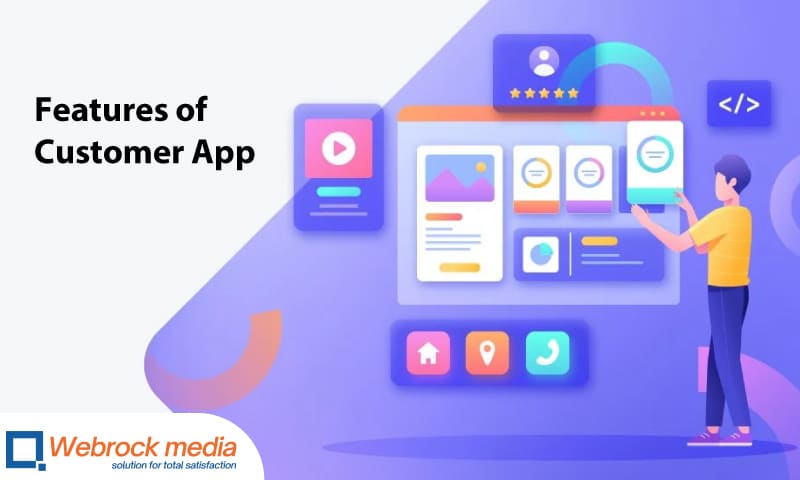 Our handyman app solutions are made with customer use in mind, and we have kept the user interface very simple so that all your customers can use it with utmost ease and convenience. You can offer your clients a scalable, highly interactive app with a reliable booking engine. Let us discuss the handyman app customer segment features.
Easy and Secure Login
Your handyman app customers can register themselves easily by adding their phone number and/or email address. They can use the same credentials later to get access to their app profile and order a specific service.
Easy Search and Browse Option
Customers can browse through the options before availing of a specific service. They can also use the search button to look for and find their preferred service and book it accordingly.
Easy Service Booking
The handyman app will provide a very easy service booking option to its app users so that they can make the most of their time spent on the app and enjoy a better experience.
Real-time Tracking
Customers will have the option of real-time tracking, where they will get to know the location of their handyman and when they will arrive at their location to finish the job.
Convenient Payment Option
We have added all the major payment options in the handyman app so that app users can make a payment in their preferred mode and have a good experience using the app.
Features of Service Provider App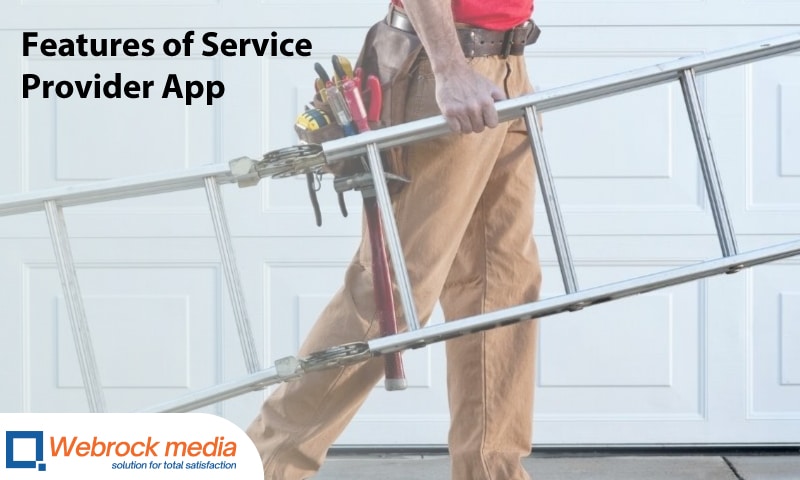 As you start your entrepreneurial journey with a handyman app service, you can conveniently run your home service marketplace using our feature-rich handyman app. Here are some of the top aspects of the service provider app segment.
Easy Registration And Login
You can easily get started with the handyman app and allow your app users to book a service request. Once your customer profiles are approved, they can request a service, and a specific service provider can reach the location and finish their job.
Real-Time Service Requests
An active service provider will receive the service request in real time the moment a customer books a service. The service provider can choose to accept or reject the service request. If they reject the request, it will go to the next available handyman.
Manage Service Provider Availability
Handyman service providers will have the option to manage all the service requests they get in a day. They can also choose to toggle between being available and unavailable for services.
Service History
A handyman can check their service history and decide to do more work to complete their daily target. They can also manage all the current service requests in this tab. They can also view all the services they have offered in the past.
Customer Information
A handyman can check all customer information before visiting their location to provide their service. They can see a customer's name, address, phone number, or any other special instructions if the customer has provided that.
Features of Admin Panel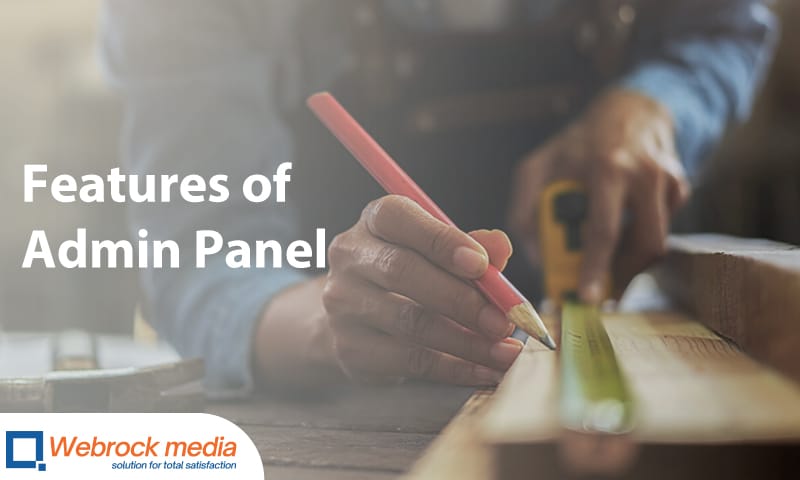 Our handyman app admin panel is rich with features and functionalities that offer you a lot of conveniences. You will have access to an all-in-one central dashboard to manage all the service requests, track the status of a service, check customer feedback, and do much more. Here is what you will get under the admin panel of the handyman app.
Manage Request
You can view, control, and manage all the service requests and bookings from a single dashboard. You can also check the existing service status and know if the customer is happy and satisfied with the requested service.
Manage Service Assignment
You can manage all the services from this tab. You can also assign a specific service to a handyman by adding the same manually from this page. You can also check all the services assigned to all handymen and manage them accordingly.
Manage Service Listings
The handyman app admin can view and control all the service requests, get detailed information about the services booked, check service categories, pricing for each service, and the handyman who will provide the service. They can also check the status of services.
Promos and Referrals
You can create different promos and discounts and provide various exciting offers to your customers. You can also track how your customers use these promo codes and referrals.
Manage Payments
The handyman app admin can monitor and manage all the payment transactions using the handyman app's highly interactive and logical admin dashboard.
Why Choose Webrock Media for Developing Handyman App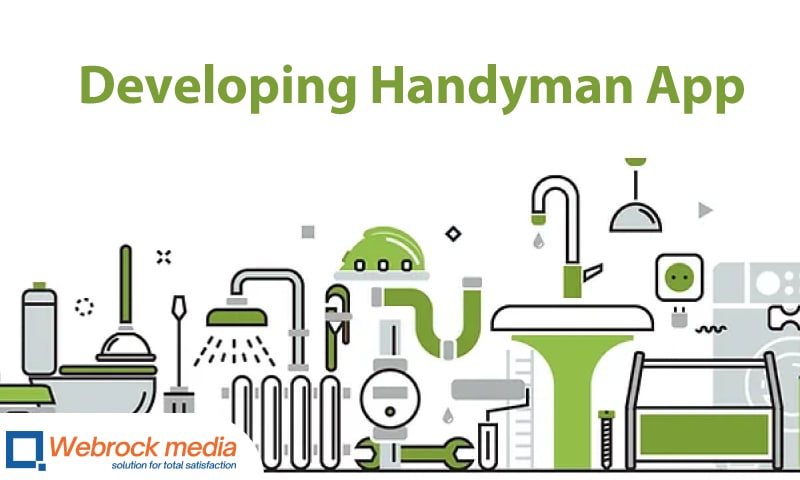 Webrock Media is a reputed name in the app development industry with extensive knowledge and expertise in the field. We offer you the best app development solution at the most affordable pricing. We do this by hiring handyman services to take care of small repairs and maintenance jobs around their home or office. Handyman services are in high demand, and the market is constantly expanding. If you want to make a handyman app, you should contact us at Webrock Media. We are a reputable app development company with much experience in the field. Hiring Webrock Media will allow you to get the best from your handyman app development services.
Let us discuss why hiring Webrock Media is the best choice for developing your handyman app.
Expertise in App Development
Webrock Media is a leading app development company with extensive experience in developing a wide range of mobile apps, including handyman apps. Our team of developers has the skills and knowledge to make a high-quality app. We always ensure that your app functions on all kinds of mobile devices and offers a great customer experience. From the initial design and development phase to testing and deployment, Webrock Media will work with you every step of the way to ensure that your app meets your expectations.
Customizable Solutions
Webrock Media understands that every client's needs are unique, which is why we offer customizable solutions to meet your specific requirements. We will discuss your requirements at the beginning of the project to understand the needs and then create a solution that matches your specific requirements. Whether you are looking for a simple handyman app or a more complex solution that includes features such as real-time tracking, push notifications, and in-app payments, Webrock Media can develop an app that is customized to your business.
Affordable Pricing
Creating an application may require a substantial financial outlay, but when you work with Webrock Media, you can rest assured that you will receive excellent value for the money spend. We offer you an affordable rate so that it meets your business needs and budget. No matter what we do, we do it without ever compromising on the quality of the app. With Webrock Media, you can be sure that you are getting a high-quality, functional app that is within your budget.
Timely Delivery
At Webrock Media, we understand the importance of timely delivery, which is why we have a proven track record of delivering projects on time. We work with a dedicated team of developers. Each one of our developers is committed to delivering high-quality apps within the specified timeframe. We will give you a timeline to finish the app at the beginning of the project and ensure that your app is delivered on time.
Quality Assurance
Webrock Media's development process includes a rigorous quality assurance process to ensure that your app is free of bugs and glitches. Our team of developers follows best practices and testing methodologies. We ensure that your app is of the highest quality. We also provide maintenance and support to ensure that your app is always up-to-date and functioning properly when used by customers.
Excellent Customer Support
Webrock Media is committed to providing excellent customer support to its clients. We offer 24/7 customer support to ensure that our app developers address any issues or concerns with the app. We also provide regular app maintenance support to ensure that your app is always up-to-date and functioning properly.
Choosing the right app development company is crucial for the success of your handyman app. With Webrock Media, you can be sure that you are getting a high-quality, functional app that meets your specific requirements. Their expertise in app development, customizable solutions, affordable pricing, timely delivery, quality assurance, and excellent customer support make us the best choice for developing your handyman app. Contact us today to learn more about their services and how we can help you develop the perfect handyman app for your business.
The Final Wrap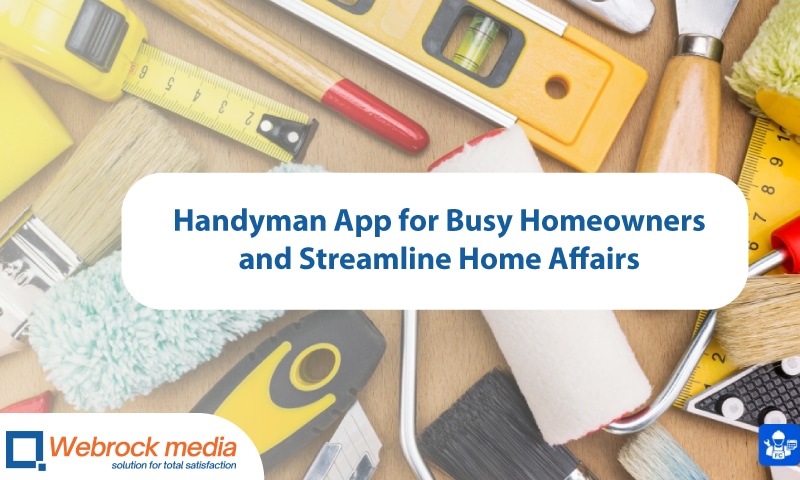 Contact Webrock Media to explore your needs for developing a handyman app. We'll assess your needs and provide a solution in line with that. As part of our explanation of the app development process, We will also let you know what to anticipate from us when you hire us to create and distribute the handyman app. In order for you to know how much you will be spending on the app, we also provide you with a rate quote for the same. And we assist you in developing a strategy for making money from the app by providing you with a straightforward app monetization approach. Get in touch with us right away, and we'll provide you with the best handyman app development assistance.

I hope you enjoy reading this blog post.
Would you like to get expert advice? Schedule a Call
About WebRock Media LLC
WebRock Media LLC comes with an incredible team of website and mobile application developers who can customize the perfect solutions to transform your business. We think ourselves to be an ideal 'Technology Simplified Destination' as we know how to perfectly merge creativity and programming to build robust websites for our clients.