home / blog / Launch A Taskrabbit Clone To Help Your Customers Get On-Demand Service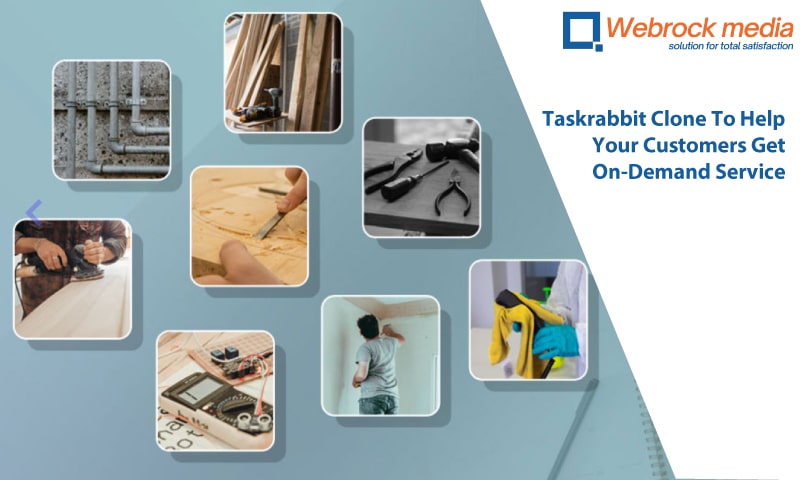 Webrock Media offers you superior quality Taskrabbit clone development services at the most affordable rate to help you revolutionize the gig economy and generate huge profits.
Our Taskrabbit clone allows you to operate an app-based handyman platform and keep up with consumer demand. To help your handyman business grow, we have created our software with cutting-edge technologies and sophisticated features. The admin can easily manage the entire activity with an app and ensure to fulfill the demand of customers.
Launch The Most Amazing Taskrabbit Clone App and Create A Business Empire By Offering Handyman Services
Let's be very honest here! When getting services, it becomes challenging for many people to take out that time and search for options. In the age of technology, why is it so that anybody has to go out and search for a handyman when they can book the service online? When it comes to home services, the first thing to keep in mind is that handymen are indispensable to everyone's daily lives. Life could have become much tougher if there was no such individual to help people in need. The use of apps ensures you can connect with these handymen more readily!
So, if you want to help people find a good solution that can aid them in creating the right balance and yet not be a threat to their needs is significant. This is why promising apps like Taskrabbit can help you provide assistance to your customers with tasks on the go. You will be mistaken if you think that the discussion ends here! Such is the app's interface; no matter what your customers are looking for, they can find it all under one dashboard.
Why Should You Develop a Taskrabbit Clone App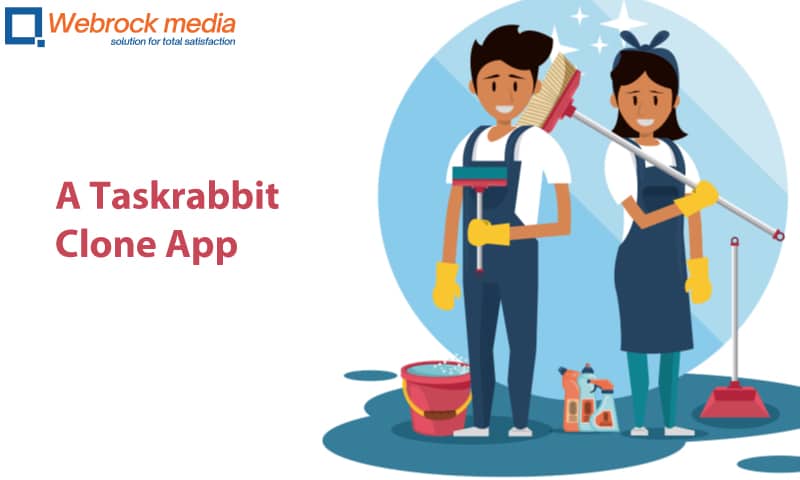 As an app owner, the first thing you need to understand is that you must offer professional services to your customers. And for that, the Taskrabbit clone should have an easy-to-use interface. Customers should be able to book their required service with a few simple clicks on the service menu, and avail the service at their chosen time slot.
We at Webrock Media are here with one of the best clone apps, and it is none other than Taskrabbit clone. The original Taskrabbit app is a testimony of excellent services, which we have also focused on. You can rest assured that although the framework seems to be the same, you can make small changes per your specifications. We understand that a lot of entrepreneurs become skeptical before hiring app developers for a clone app development service. One of the primary reasons behind this is that they think that such an app will not be able to do good business in the market because it is not unique.
If you want to develop the best clone app, then the best option is Webrock Media. We have been in the app development industry for quite some time now. Hence, if you want to go for one-of-a-kind app development services, we are here for you!
What Is The Taskrabbit Clone App?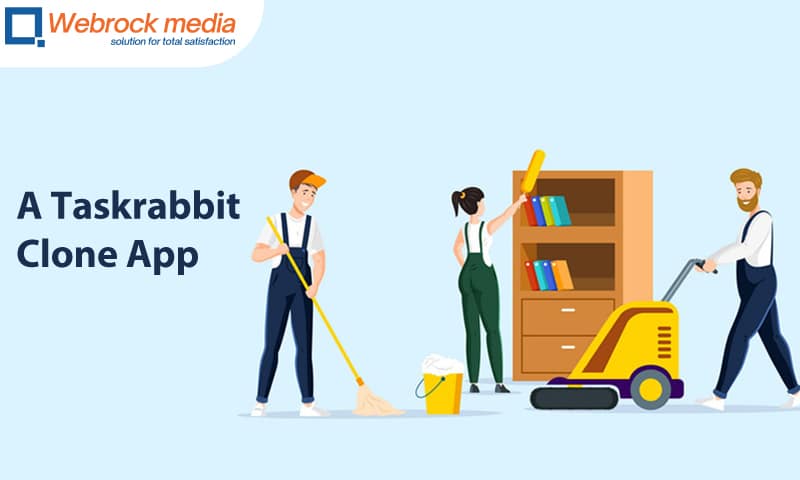 Before we talk about the most promising features of the Taskrabbit clone app, we must also speak of the app's nature. As you can understand, it is a one-stop solution for all those who want to find a handyman for different services under one roof. We cannot deny that taking care of a household is not easy, and hence more often, we need more help than you would imagine.
To make sure that people do not go through such high levels of problems and get assistance in all the services, the best thing you can do is choose such an on-demand service. It works like a marketplace that helps you get excellent services for all your needs. We cannot deny that when it comes to the Taskrabbit clone app is no doubt one of the best, and we have tried to build it with path-breaking technology. Why do we say that?
Without such an intensity of technology, there are no doubts that one will not be able to incorporate millions of users under one roof. You will be able to get assistance for all your work, and that too under one single roof. Users will need to download the app and then move ahead further and create their account to book services.
Significant Features of the Taskrabbit Clone App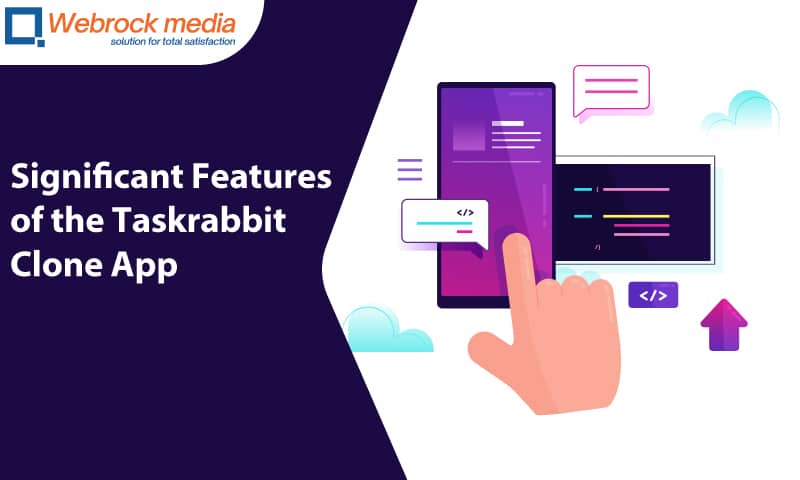 Before you start a new clone app business, the one thing that we need to keep in mind is that you can offer various services to your customers. You can also add tons of unique features in the app to make it more functional and user-friendly. We offer you a white-label Taskrabbit clone app solution. At Webrock Media, we have the best app developers who can develop a fully functional Taskrabbit for you. You will also be able to add your own specifications and functionalities in the app to meet your business requirements. Some of the essential features of the Taskrabbit clone app that you can choose to incorporate in the app are:
1. Easy Login ( With Social Media)
An app should be easy-to-use and meet all the requirements of the end users. The one thing you need to remember under all circumstances is to make sure that you make the process more fruitful.
To ensure that, we have incorporated the most accessible login system. You do not need to incorporate much detail at all. Along with that, we have incorporated the social media login as well, ensuring you can connect your social media with your Taskrabbit clone app.
2. Payment Integration
Technology has moved so fast that today it allows us to have numerous payment choices, and thankfully it is not restricted to cash only. However, there are downsides to such technology, and hence we need to ensure that the payment integration process is extremely safe.
Be rest assured, when you choose to use our app to make any payment, your money is in safe hands. We are always proctoring all kinds of financial payments that you make, and hence be rest assured.
3. Myriad of Handyman Services
As you have already understood by now, one of the significant features of the clone app is that it helps you get thousands of handyman services under one roof.
Hence, as an entrepreneur, you will be able to add a lot of people and cater to many services at once. Be it for mechanics, electricians, plumbers, delivery personnel or any other related services, this app is perfect. All you need to do is build it in a way that it becomes compatible with users.
4. In-App Chat
What happens when you are stuck with some functioning but cannot get assistance? Because of this, we have incorporated the in-app chat option, which is highly fruitful.
If you have any problems with the functioning, you only need to get started with the in-app chat, and the professionals will guide you through it. Yes, it's that easy. The good thing about the in-app chat is that it does not take a lot of time and will be able to sort out your problems instantly.
5. Multilingual Support
As an entrepreneur, you must understand that you will have a global client base. Consequently, the language preference for each of them will not be similar. Because of this, we have added an option for multi-language support.
It automatically means that along with English your users will be able to get support in their native language and it will enhance the client. Developing an app that understands global positioning is essential, and we help you achieve that.
6. Availability Toggle
Supposedly your clients want to book a particular professional for their services. But at the same time, they do not understand whether the professionals can take it up. This is why we have incorporated the availability toggle, which is exceptionally well indicative.
The primary use of this particular toggle is that the professionals can turn it on and off based on availability. The clients can see which professionals can take up the services and then book them.
7. Pricing
Would any of us ever be comfortable if we did not know how much it is going to cost us to book the service? It is because of this reason that we have incorporated the pricing option as well and it allows us to provide our clients with a good understanding of how much it is going to cost you.
Based on the professional you are booking and the service you are going for, the app will automatically display the pricing. It is one of the best features we have incorporated, and the good thing about the pricing is that it is also usually highly accurate.
8. Ratings and Reviews
Supposedly, you book a particular handyman service. After you finish it, you want to share how you felt to let the other users know. Wouldn't it be frustrating if you could not do that? We have developed the clone app so that we can help our clients get these resources well.
After the professional completes the service, you can leave a rating about how much you like it. The best thing about the rating and the review option is that it allows the clients to share what they feel and acts as a reinforcement for the service providers.
9. Referrals and Earnings
One of the most important things that we need to keep in mind is that there are a lot of apps in the market and some of them have made their name. In such an instance, it becomes tough for a new app to come and mark its forte. Because of this, we have added the option for referrals and earnings. So what does that mean?
It is one of the best options for marketing. Each time you see that someone has referred your app, the app will award them a promotional reward. The client will be able to use the same very quickly when booking a service for the next time. There is no doubt that the referral and earning option is one of the best strategies. It will help you reach out to many people and that too easily.
10. Schedule Services
And finally, the last feature that we are going to talk about is none other than the scheduled services. As you can understand from the name itself, this particular service's primary function is allowing you to schedule services. It can happen anytime you want to get a service done but not now.
You can easily schedule services to ensure you do not run out of time or forget to book an appointment. The app will allow you to choose the time and the booking date as needed. Rest assured that on the confirmation, the professionals will reach your doorstep and ensure there are no hassles.
Revenue Generating Model You Can Follow For The Taskrabbit Clone App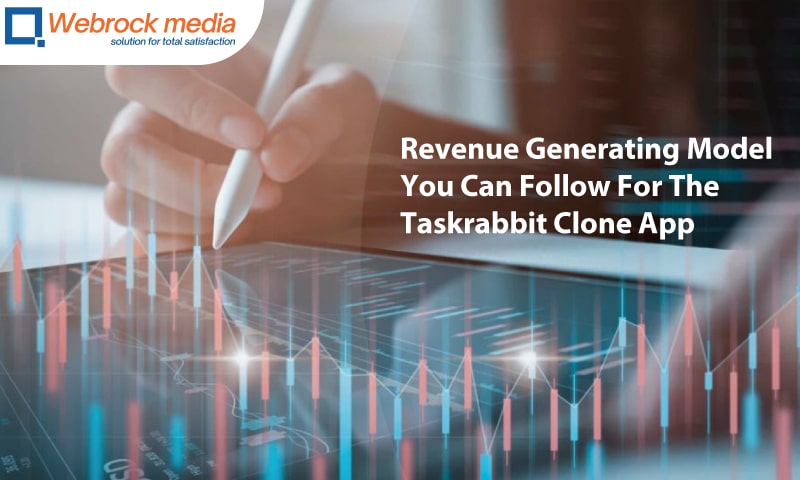 If you know a little bit about the original app, you will understand that it is currently one of the best working models in this field. There are people all over the world who are mainly vested in this app and find it extremely comforting to use the same and book services.
As an entrepreneur, it is essential to understand how you can scale the app in the long run and earn money from it. The best way to do it is to incorporate as many service providers as possible under your service regimen.
As the service providers start providing their services, you can charge them a commission based on each booking they receive. There are two ways to go about this. Either you can choose to go for a fixed percentage.
At the same time, you can also choose a model where the percentage tends to differ based on the booking price. Rest assured that if you can deploy the right marketing tactics, it will not be a problem to fetch the right revenue from it in due course. Although this is just a basic framework for revenue collection, you can formulate what works best for you. If you can market it in the right way, it will be able to help you generate a lot of revenue.
Why Hire Webrock Media for Taskrabbit clone Development Services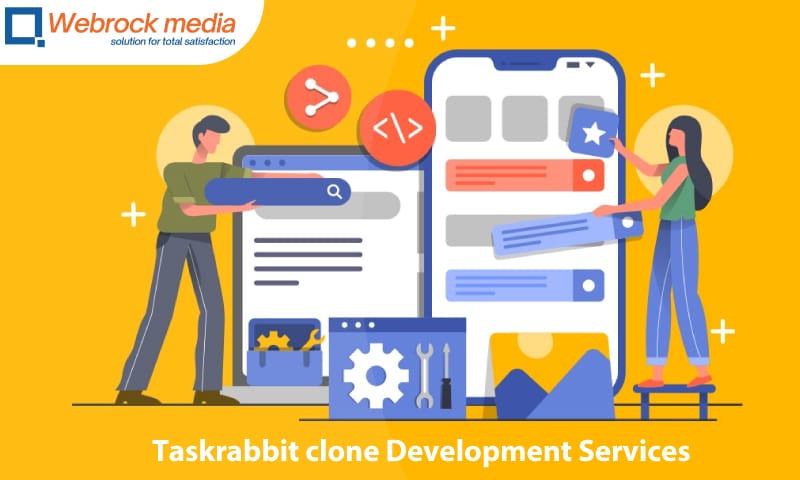 As an entrepreneur, you must always find innovative and efficient ways to streamline your operations and increase the business reach. One of the ways to do this is by developing and launching a clone app. A Taskrabbit clone app we develop at Webrock Media is a replica of an existing app and we add different features and functionalities to effectively cater to the needs of your business. With the rising demand for clone apps, there are numerous app development companies offering these services. One such company is Webrock Media, and here are the reasons why you should consider hiring us for your clone app development needs.
We at Webrock Media have a team of highly skilled and experienced developers who are well-versed in the latest technologies and development frameworks. We have successfully developed numerous clone apps across different niches, and our clients have seen tremendous success with our products.
We at Webrock Media understand that every business has unique needs and requirements. Therefore, we offer tailor-made solutions that cater to the specific needs of your business. We work closely with clients to understand our requirements and deliver solutions that are customized to our needs.
Webrock Media understands the importance of time in the fast-paced business world. We have a streamlined development process that ensures the timely delivery of projects without compromising on quality. We provide regular updates and maintain constant communication with our clients to ensure that the project is on track and delivered on time.
Webrock Media offers cost-effective clone app development services without compromising on quality. We provide transparent pricing and ensure that there are no hidden costs involved. We offer flexible pricing models that cater to the needs of small and medium-sized businesses.
Webrock Media offers maintenance and support services to ensure that your clone app runs smoothly and efficiently. We provide timely updates, bug fixes, and other maintenance services to ensure that your app stays up-to-date and functional.
Summary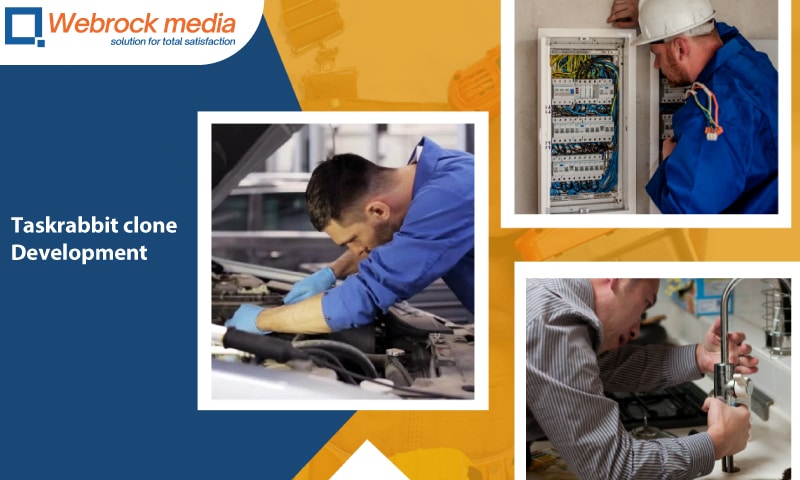 In the age of technology, it is essential to understand what we can do to make the apps better equipped. Even when it comes to a domain like Taskrabbit clone app development services, you always have to ensure that you are under the proper guidance. Contact us today at Webrock Media, and we will be more than happy to curate the perfect Taskrabbit clone app for you. We have a team of the best professionals who can work on making your app a roaring success.
If you are looking for a reliable and efficient clone app development company, Webrock Media is an excellent choice. With our expertise, customization, time-efficiency, cost-effectiveness, and maintenance and support services, we can deliver high-quality solutions that cater to the unique needs of your business.

I hope you enjoy reading this blog post.
Would you like to get expert advice? Schedule a Call
About WebRock Media LLC
WebRock Media LLC comes with an incredible team of website and mobile application developers who can customize the perfect solutions to transform your business. We think ourselves to be an ideal 'Technology Simplified Destination' as we know how to perfectly merge creativity and programming to build robust websites for our clients.